Rancho Cucamonga Garbage Disposal Services
Repair & Installation Services You Can Trust
Your garbage disposal plays an important part in your plumbing system. It makes sure large food items do not get stuck in your drains and cause clogging. If your device has stopped working properly, get help from your plumbing experts.
All City Plumbing is a garbage disposal repair and installation team in Rancho Cucamonga focused on top-notch customer service and long-term solutions.
Don't let a broken garbage disposal lead to more serious drain issues. Contact All City Plumbing at (909) 552-7550 for immediate Rancho Cucamonga garbage disposal repair or replacement services.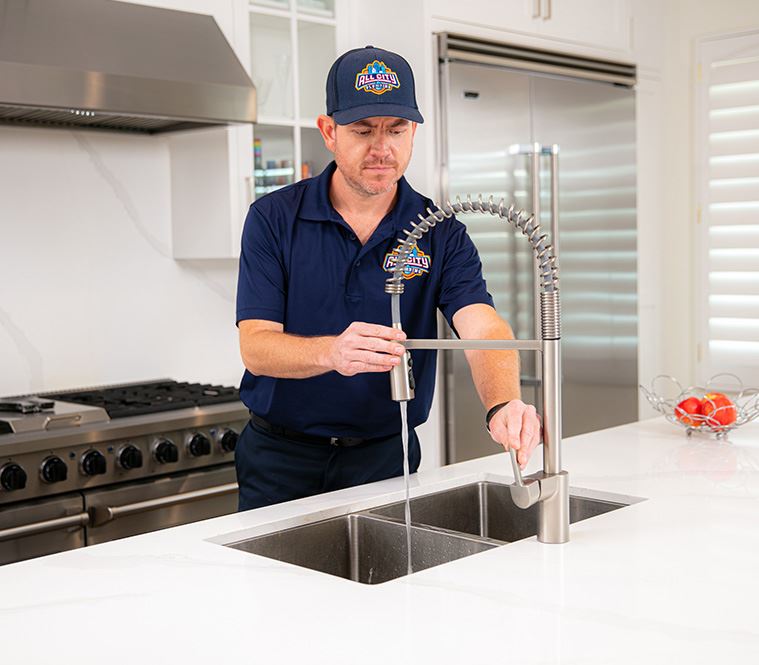 Plumbing Problems Suck! We Get It. No homeowner wakes up in the morning expecting to have a pipe burst in a bathroom or a water leak inside their kitchen. When it happens, all you need is a trusted plumber who can diagnose and fix the problem right, the first time.
Common Garbage Disposal Problems
While it is easy to maintain your garbage disposal, you may still encounter unexpected problems. Here are signs you need professional garbage disposal repair:
Unusual noises: If you hear an unusual grinding or squealing sound when you turn on the garbage disposal, and you have verified that there is nothing stuck inside, you may need to repair the unit
Failure to power on: This can be caused by various reasons, some of which require repair while others will need replacement
Waste goes un-shredded: If you see food or particles in your garbage disposal that do not go away, there is likely a clog or blockage
Is it Time for a Replacement?
If you are not sure whether your garbage disposal needs to be repaired or replaced with a newer unit, contact us for help. We will inspect the problem and let you know if your unit is nearing the end of its lifespan.
Here are a few of the signs your garbage disposal should be replaced:
The unit is cracked: Large cracks in the garbage disposal cannot be repaired and replacement is recommended
Rusted unit: Get your garbage disposal replaced before it completely stops working
Unit is old: Most disposals last for 10 to 12 years; if your unit has been around for a while and starting to develop problems, consider replacing it with a more efficient one
Is your kitchen sink clogged because the garbage disposal isn't working? Get fast help from your garbage disposal repair and installation experts. Contact us today for your FREE estimate. What Homeowners, Just Like You, Are Saying About All City Plumbing
"They did an amazing job and I will be calling on them again."

Nick and Will were professional, and polite, and explained everything clearly. I recommend them to anyone needing plumbing service.

- Amanda O.

"Great work and great attitude."

I am very happy about the service and recommend All City Plumbing to all my friends.

- J.F.

"Beyond satisfied and most certainly you will be, too."

Nick the plumber is a straight shooter...honest, professional, and 100 percent customer service oriented.

- Anthony A.

"Very good experience. Definitely recommend."

We really appreciated Donald covering his shoes before entering our home each time and how he cleaned the workplace thoroughly before he left.

- Biman G.

"Highly recommend this company!"

Shann was in and out super fast, very professional and polite, and went the extra mile to make sure everything went smoothly!

- Jennifer

"They provided quality workmanship."

Overall a great experience and I would definitely recommend All City Plumbing!

- David M.

"They were clean, polite, thorough & and worked very hard."

They were clean, polite, thorough & and worked very hard. I highly recommend them if you want your project done right and at a decent price.

- Margo K.

"They have easy financing that is not harsh on the wallet."

All very sweet and did an awesome job. I would recommend this company to everyone.

- Jennee F.

"Gave us the best price & the quickest service."

I would highly recommend you request Paul when calling he explained everything in great deal I have a new plumber who I feel very safe with and he is above all honest!!!!!

- Emily C.

"Genuinely cared about providing me a great experience."

Thanks for coming out so quickly and helping me get the hot water back on. Definitely will contact again!!!

- Cam A.
Maintenance Tips
Proper garbage disposal maintenance will help you keep your kitchen drains clear of clogs. We will be there to resolve any issues, but there are ways to help prevent the issue from the start.
We recommend that you keep your garbage disposal in top shape by:
Keeping hard items out of the disposal: These include bones, popcorn kernels, and egg shells. Hard to shred or crush items can dull or break the blade.
Running cold water from your faucet while the disposal is running and continue running water 60 seconds after the disposal is turned off: Cold water helps keep the motor and bearings from overheating, while also helping to push ground food and waste through your pipes.
Grinding up ice in the disposal on a bi-weekly basis to keep it clean: Use lemon or orange peels to keep the drains smelling fresh.
Call us today at (909) 552-7550 to get started with a free, on-site estimate! We are here seven days a week to provide the help you need.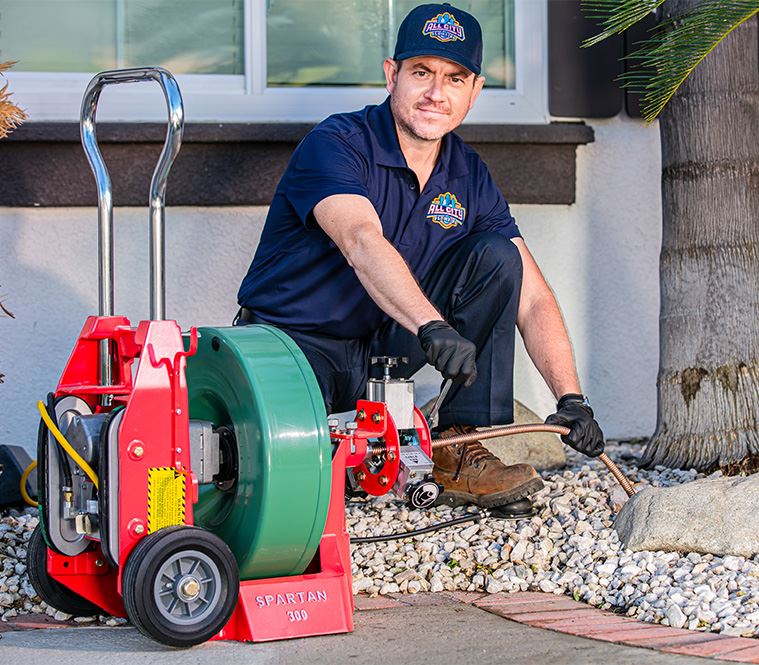 Been in Business for 13 Years

Over 50 ACE Certified Plumbers

30,000+ Satisfied Customers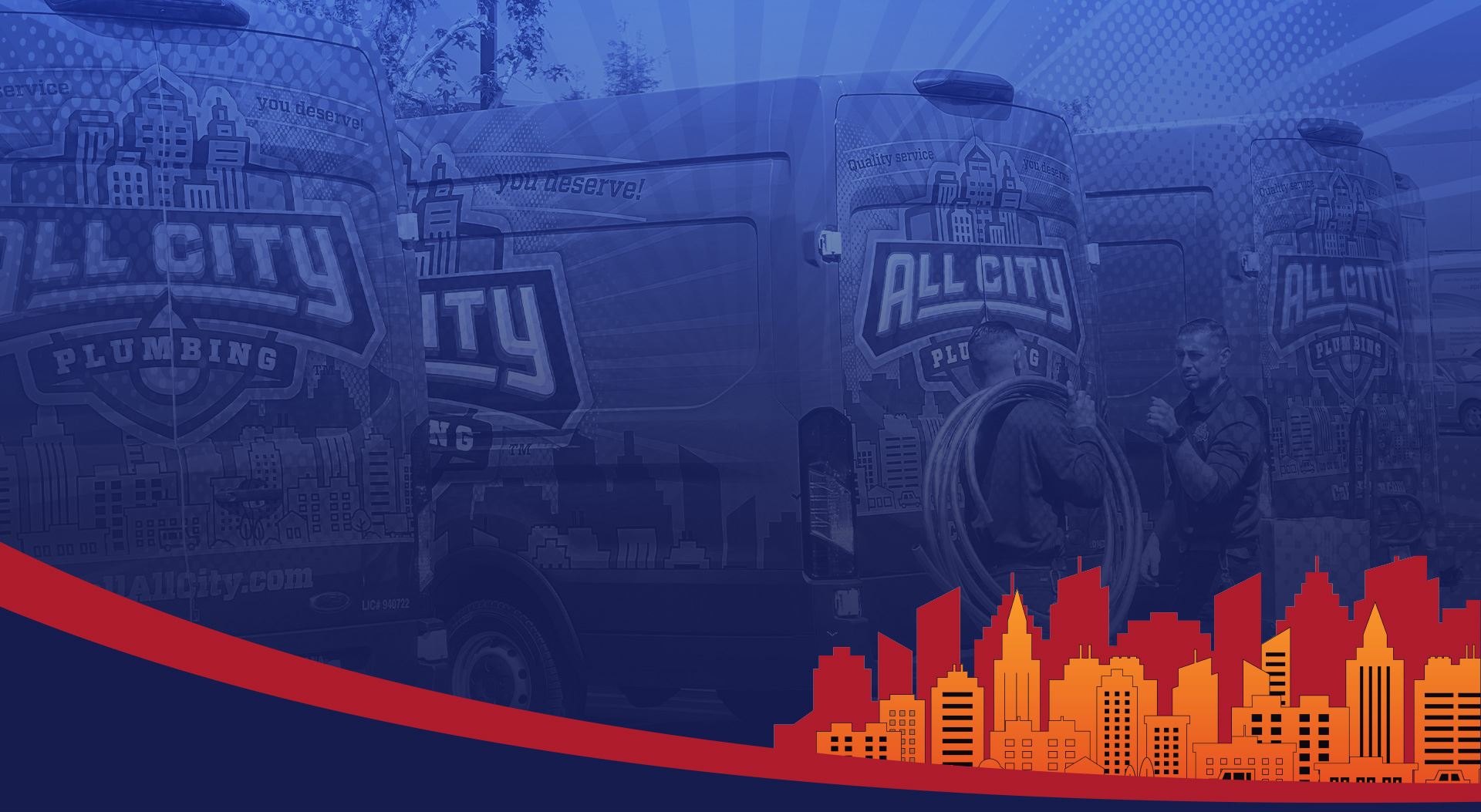 Life's Too Short
For Bad Plumbers
With All City Plumbing, your plumbing job will get done right the first time with the best talent in the industry. Contact us today to schedule your service.
Got Questions? Call Us!
Dial (909) 552-7550 or fill out our form below to get in touch with our expert plumbers.