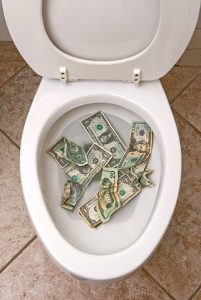 Toilet models of yesteryear consumed 7 gallons of water with every flush. In 1992, with the adoption of the Federal Energy Policy Act, new toilets in the US could not use more than 3.5 gallons per flush.
Initially, this new policy met with some backlash when consumers complained that their low-flow toilets necessitated a second flush, thereby eliminating the water conservation benefits. Thankfully, design improvements since then have made low-flow toilets just as effective or better than their water-guzzling predecessors.
When you switch to a low-flow toilet, you will achieve a 50% reduction of water usage per flush. According to the Environmental Protection Agency, that can represent a savings of $100 annually on your utility bills.
The Latest in Water Conserving Toilets 
Dual flush toilets have been popular in other parts of the world for some time now and are becoming increasingly present throughout the US.
These models use even less water than low-flow toilets by having two flush modes. A mere 1.6 gallons of water is used when flushing solid matter and 0.8 gallons when flushing liquids.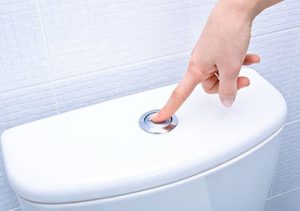 It's estimated that the average consumer with a low-flow toilet flushes 8 gallons per day, but a person with a dual flush model will only flush 4.8 gallons per day. It's clear then that going with a dual flush model is even better for the environment and saves even more money on your water bills.
Rebates and Incentives
With utility savings in the neighborhood of $100 for low-flow toilets and even more for dual flush toilets, it makes the investment in a slightly higher priced toilet quite worthwhile. But if the savings on your water bills weren't enough, you may also be eligible to receive a rebate when you purchase a high-efficiency toilet. Many county and city water companies are offering special incentives to homeowners. Contact your water management company to find out if one is available for you.
Installing a dual flush or low-flow toilet is no more complicated than installing less efficient models. Nevertheless, it's a good idea to entrust the task to a licensed and experienced plumbing professional. In Rancho Cucamonga, your best bet is the friendly experts at All City Plumbing. Call us at (909) 552-7550 today.