Quality Plumbing Services You Can Trust



All City Plumbing is your trusted service provider for plumbing problems because… we fix it right the first time.

Why Some Chemical Drain Cleaners Don't Work
We've all been there. The bathroom or kitchen sink has become clogged so we go out and buy a chemical drain cleaner. After one or two applications, your sink is draining like normal again. But after a few weeks, it is clogged again. Before you decide to use your store-bought chemical drain cleaner again, stop.
Many chemical cleaning solutions contain harsh and harmful chemicals that may actually be deteriorating the inside of your pipes. The chemicals may temporarily dissolve the debris build-up, or perhaps push it further down the pipe, but it doesn't properly remove it.
A professional drain cleaning job helps to ensure any build-up or debris is properly removed from the pipes without damaging them. A positive benefit is that any foul smells coming from the sink, particularly kitchen sinks with trapped food particles, are removed.
To book a service with a plumber in San Dimas, call All City Plumbers at (909) 552-7550.
Schedule Online

Signs You Need to Replace Your Water Heater
Most water heaters last up to 10 years. If yours is over a decade old, it may be near the end of its product lifespan. If your water heater is acting up, don't delay in contacting your local San Dimas plumber.
Here are a few signs you may need to replace your water heater:
A noisy tank. Over the years, your water heater develops a layer of sediment at the bottom of the tank. Due to normal heat-and-cooling cycles, the sediment hardens making your water tank less energy-efficient and more noisy.
Leaking. An older tank may develop a tiny leak or fracture. Water tends to seep out during the heating phase. Double-check to ensure that there are no leaks developing from the connections to the tank.
Rust. You may notice a strong metallic smell or taste from your water. This may be an indicator that your pipes or water tank are rusting.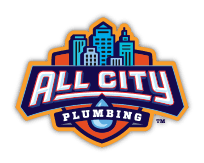 Contact Our Team





Fill out this form or call us at (909) 552-7550.