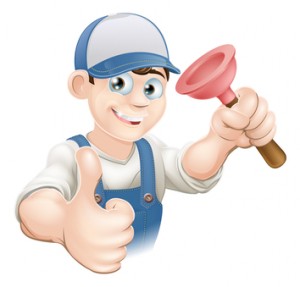 Clogged Toilet Prevention: Prevent Toilet Clogs with These Tips
Toilets are often the under-appreciated part of your home. Few people spend time and effort thinking about how they function until, of course, they stop working. There are many reasons why a toilet could clog on numerous occasions, with the need to identify the major issues causing the blockages the best way of making sure the problems are eliminated for the future. If you're dealing with a clogged toilet, keep reading.
1. Your Low-Flow Toilet Isn't Powerful Enough
Low flush toilets are a great way to reduce the amount of water being used to flush the toilet, which keeps water bills and usage as low as possible, and could prevent clogged toilets. While they save money, we often see these types of toilets causing problems with low water pressure. Toilets created from 1994 to 1997 are referred to as first-generation low flush, which have too little power to push waste into the drains, resulting in clogged toilets.
Recommended action: Be very careful about how much toilet paper you attempt to flush at one time. You may also wish to consider upgrading your toilet to a newer model that saves water without loss of efficiency to prevent clogged toilet problems.
2. Your Drain Line is Clogged
In some cases, the age of a drain line can work against it, and the drain line may frequently clog even when flushing just regular waste and paper products. Hair, paper, and foreign objects are other common culprits that aging drain lines have a hard time with, resulting in clogged toilets.
Recommended action: Call a plumber to have your drain lines cleared. If the problem continues, you may need to have your drain and/or sewer lines repaired or replaced.
3. There's Not Enough Water in the Tank
Pressure must be applied to any waste making its way out of the toilet. If the toilet tank is not completely full when the toilet is flushed, there won't be enough pressure to clear the bowl, resulting in a clogged toilet.
Recommended action: Check to make sure that the supply valve is in the open position, then check the water line supply for leaks. If there is no problem with either, try replacing the fill valve.
4. Hard Water Build-Up
Hard water is a very common problem in Southern California. While not dangerous to drink or bathe with, hard water can calcify and form a white substance that is difficult to remove from your toilets, narrowing the gap that water and waste can pass through. The harder your water, the more minerals will accumulate in your plumbing system, and the more likely you'll be to experience toilet clogs.
Recommended action: A quick fix is to have a plumber use a solution to flush out your toilet system. A long term fix is to install a water softener to treat your water before it enters your toilet in order to reduce the problems in your toilet going forward by preventing mineral build-up.
5. Clogged S-Trap
S traps, that bit of S-shaped pipe behind your toilet, are meant to prevent sewer gases from entering your home through the toilet drain. While useful in this regard, they may also be susceptible to clogs.
Recommended action: A plunger may be all you need to clear a minor clog this far up the drain line.
6. There's a Blockage Somewhere Else in Your Plumbing System
Some problems are caused by other water-carrying lines into the drains. Washing machine blockages, for instance, can cause issues that affect the entire plumbing system, including your toilets.
Recommended action: Call a plumber to inspect your drain lines and pinpoint the exact location of the blockage.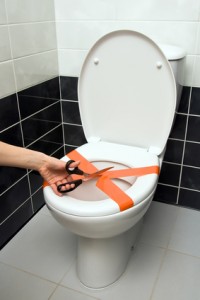 7. Flushing "Flushable" Wipes
Believe it or not, baby wipes are not meant to be flushed. It seems reasonable that anything used to wipe an infant's backside should be able to go down the toilet, but unfortunately, that just isn't the case. These convenience items are the number one cause of clogged toilets and can cause expensive damage to your plumbing. Although toilet and baby wipes often bear the logo stating they are safe for flushing, they can easily cause a major backup, especially when a drain is already a little blocked already.
Recommended action: Never flush any so-called "flushable" wipes, especially if you have a septic system. Throw them in the trash instead to prevent clogged toilets.
8. Flushing Foreign Objects
Kids love water. They also love water that mysteriously transports objects to some other realm. The toilet is endlessly fascinating to toddlers and small children. This is why toys and other objects placed in the toilet by children is the next common cause of clogs. Many items are large enough to fit through the bowl but become impacted once they reach the pipes.
Recommended action: Only waste and toilet paper should be flushed into a toilet; never trash or any other item. Be sure to watch young children and instruct them to keep toys and trash out of the bathroom.
9. External Factors
Clogs happen, but common maintenance issues are clog creators as well. The pipes that lie outside of your home can cause drain clogs that may result in slow or non-moving toilet drains in your home.
Recommended action: Speak with your plumber about a drain maintenance program.
10. Slow Septic Systems
Slow-moving septic systems, or systems that are stalling and not turning over quickly enough, can cause toilet clogging in your home. A healthy septic system is important to maintain; with a proper balance for ideal drainage flow.
Recommended action: Have your septic tank pumped regularly. Depending on the size of your household and tank, you may need septic tank cleaning every one to three years.
11. Older Pipework
Collapsing pipes can create clog problems as well. Usually, the first sign is sediment backwash, but slow drains in multiple toilets or other drains in your home is a clue the problem may be bigger. This can be costly over time and is a sign a professional is needed.
Recommended action: Have your plumbing inspected by a professional. If an inspection reveals that your pipes are damaged or in danger of failing, you may need to consider repiping.
12. Awareness of How Your Toilet Works
The most important thing for a homeowner is to know your system well in order to avoid the ongoing problems that could arise with it. Know if your toilet is hooked up to a sewage system or if it relies on a septic tank to operate. Septic systems have specific concerns associated with how they operate and require certain chemicals to accelerate the waste processing mechanism and avoidance of flushing certain materials.
Recommended action: Consult with your plumber on specific ways to maintain your plumbing system based on your home's age, location, size, and other considerations.
Knowing the most common items to clog toilets can help you avoid problems before they happen, and will help you know when it is time to call in a professional. Call All City Plumbing at (909) 552-7550 for all your repair needs in Southern California!