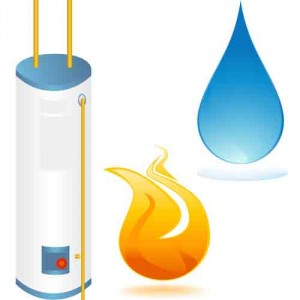 One of the biggest energy hogs in your home is the hot water heater. The traditional water heater stores dozens of heated water in a large metal tank that needs to be kept at a certain temperature day and night.
Keeping the water hot so you can shower at any time means you are using energy to do so. Technology has come a long way in only a few years, so even a heater that is 5 years old is not running as efficiently as a new energy-efficient model. Consider these tips for choosing the right water heater for your home.
Knowing how to get the most out of your hot water heating system can be quite beneficial. You can improve your hot water supply by installing a recirculation pump, or if your tank is larger than your demand requires, you may be able to save money by downsizing. We can help you discover exactly what action will be best for your home. 
How Do I Select a Hot Water Heater?
There are several things to consider before purchasing a hot water heater. You'll need to keep in mind the type of fuel, availability, and cost.
The energy source you use for your hot water system will affect the annual operating costs and the energy efficiency of a model.
Before making a final decision it is a good idea to compare the estimated annual operating costs involved with the different types of heaters.
This amount varies among conventional, tankless, heat pump heaters, and solar hot water systems. Most importantly, you need to consider what size heater will accommodate your needs.
Can I Down Size my Water Heater to a Smaller One for my Property?
There are many reasons why downsizing can make sense. Many times a family will no longer need as much hot water as they once did.
As children grow up and move on, empty nesters find smaller tanks to be quite adequate. Or perhaps your property already had a large water heater when you moved in, but you find your needs don't match its size.
By downsizing, you can be saving on your utility bills while still enjoying more than enough hot water. We can help you decide exactly what size heater can handle your demands so that you'll be happy with your decision.
Older Water Heater
If the water heater in your home is approaching 7 years or older, now is the time to consider getting a new unit.
The water heaters come in a variety of sizes and ratings, and the sooner you purchase a new one the sooner you can enjoy the savings.
If you are not having issues with hot water usage in the house, then opt for the same size unit but look for one with a higher energy star rating. This will ensure you get the same heated water but will pay less to heat that water over the course of a year.
Space Issues
If it is time to get a new water heater and space is of a premium, consider getting a new tankless water heater for your home. The tankless system heats water on demand without the need to store and heat water in a tank.
This means the system itself is much smaller, able to be hung under the sink in a cabinet or on a wall in your laundry room. The units not only waste less water as every drop is heated instantly, they only run a fraction of the time of that of a traditional hot water heater.
Growing Family Needs
As your family grows, so does your water consumption needs. When you are getting into cold showers each day, it might be time to upgrade to a larger hot water heater.
Traditional water heaters come in a variety of sizes, so if your water is cold after a few showers, chances are a simple upgrade to a larger system will do the trick.
Be sure that you call your local plumbing repair company to remove and install any new hot water heater. The connections must be precise in order for the system to work properly.
Which Water Heater is Right for My Home?
Do you need to get a new hot water heater or perform maintenance on an existing model you own? If so, there are several things you're going to want to keep in mind.
Buying a new hot water heater can be tough if you are not sure what you're looking for and trying to do maintenance on one isn't easy either if you have no experience.
The best bet is to leave these issues in the hands of qualified professionals who can get things up and running for you at a reasonable price. Even so, let's go over some things to keep in mind about buying a new hot water heater and doing maintenance on one.
How to Buy a Hot Water Heater
When buying a hot water heater you have to take into account quite a few factors that you'll need to keep in mind. First of all, you want to make sure you can afford it. Don't just buy a hot water heater because it is a bargain, make sure you spend your money wisely on a model that is best for your situation.
Performance and size are also issues when buying a hot water heater. This is one of the reasons it is so important to have a professional help you if you're not sure what you need. Getting a hot water heater that is too big or doesn't have enough performance for your home or business can be disastrous. Instead of trying to figure it out yourself, just hire someone who knows what they're doing to give you a hand and help you get what you need.
Water heating in your house is the central energy consumer. Therefore, it is important to consider the type of water heating facility to use in your home to avoid paying for unnecessary energy costs.
Several factors should be considered such as the price of the water heating system and the installation cost. Other factors that should be considered include the availability of the energy sources, the rating of the water heater in terms of the energy factor, and whether the system is compliant with the current water heater regulations.
Energy Factor ratings, which are also known as EF, are used to compare the energy efficiency of various energy products. High Energy Factor means that the water heater is very efficient.
Water heating facilities that are currently available on the market do function through the use of natural gas, propane, or electricity. Sometimes the energy prices and the EF ratings do vary considerably. In such cases, a calculator is available online to enable a person to compare the energy costs in a certain area.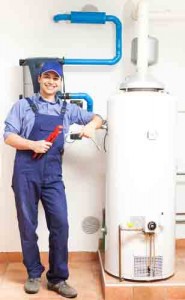 Tankless Water Heaters
Tankless water heaters are known to use propane, natural gas, and electricity. These kinds of tanks are known to consume energy efficiently, and that is why their price in higher when buying and also during installation.
The tanks that use gas require a gas line that is larger. The single-use units that make use of electricity do cost less and they can be installed under the sink.
Solar Water Heaters
The collector of a water heater that uses solar power should be located in a position that will enable it to receive enough sunlight. For it to function proficiently, it should be placed facing south and also tilted such that the angle is the same as the latitude.
Various systems work by circulating the water. The water can circulate from the tank where it is stored while others use a heat exchanger that maintains the water in the collector separated from the fluid that is in the reservoir.
Heat Pump Water Heaters
Water heaters that make use of a heat pump are known to function through the use of electricity, which makes heat be transferred from one location to the other. This is the reason the system runs efficiently.
These heat pumps are known not to function well in climates that are cold, but they work well in temperature zones that are moderate. They also require more than 1,000 cubic feet to enable them to work in a proper manner.
What is the Purpose of a Recirculation Pump?
Recirculation pumps will ensure that you have hot water available as close to your consumption point as possible. These pumps reduce water waste while increasing your comfort.
What this means for you is that once we install a recirculating pump in your home, you'll have plenty of hot water exactly when you need it, even at the furthest fixtures from your hot water tank.
This system uses a by-pass valve along with the cold water lines as a return loop to the heat source. No longer will you have to wait for the hot water's arrival in that far off shower.
Is DIY Hot Water Heater Maintenance Safe?
The short answer is no, it isn't. Not unless you are qualified to do it anyway. The reason for this is the fact that hot water heaters deal with both scalding hot water and electricity.
Having an accident when trying to do maintenance on one yourself can lead to serious injury or death. You could even become the victim of having your hot water heater fall over on you which can also prove deadly if it is large enough.
Instead of trying to tinker around with your hot water heater on your own you should contact a professional plumber or heating/cooling specialist in your local area. This will help ensure that you do not suffer from a serious injury trying to perform maintenance that you're not qualified to do.
Not sure what water heater works for your home? Call All City Plumbing at (909) 552-7550, and get the best advice from the professionals.