If you've ever experienced a clogged drain or toilet, you'll recognize the familiar signs. Slow-moving water in the sink or tub, standing water around the drains, foul odors, difficulty flushing the toilet and more all indicate a clogged drain or toilet in your home.
When you experience these issues, there are two efficient and effective options for a fast repair. Hydro jetting and snaking are both recommended by professionals as two of the best ways to clear drain clogs.
Read more about these services to learn which type of drain cleaning service is right for you.
What does Snaking include?
Plumbing snaking is a fast and safe method for cleaning clogs from the drains. The process involves using a cable with an auger-like set of rotating blades mounted on the end. The cable is inserted into the drain by a technician. As the technician feeds the cable into the drain, they will wait until they feel resistance. Resistance on the cable indicates a clog.
When the cable is in place, the technician will begin to turn a crank on their end of the cable. The blades on the other end will rotate and chew up the clog, digesting it into smaller pieces. The small pieces will either get flushed out through the system or get pulled out when the snake is removed.
When is this service recommended?
Snaking is recommended for simple clogs and emergency blockage removals. The snake is ideal for getting rid of soft clogs that have not yet hardened to the wall of the pipe.
Plumbing snaking is usually the first service recommended by a professional once the clog is assessed. If snaking doesn't get the job done, we typically move to hydro jetting since it's more intense than snaking.
How does Hydro Jetting work?
Hydro jetting uses a jet of high-pressure water to clear years of debris and grease out of the drains. As the name implies, the water jets are powerful enough to blast through even the most stubborn clogs.
Hydro jetting is so powerful that it's actually able to smooth the inner pipe texture, which prevents future clogs from forming.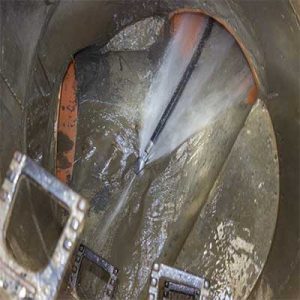 Thinking about DIY Hydro Jetting?
There are many home repair projects that are perfectly safe to attempt as a DIY project. Hydro jetting is not one of those projects. It is highly discouraged to attempt hydro jetting without proper training and experience.
Some of the reasons DIY hydro jetting is risky include:
The high-pressure water can easily get out of hand for someone who isn't trained or experienced. Mistakes can be made that lead to expensive repairs.
Pipes that are worn out or corroded are not good candidates for hydro jetting. A professional will inspect the pipes beforehand and ensure they are in good condition to receive the service.
To schedule your next hydro jetting or snaking drain cleaning service, call All City Plumbing in Rancho Cucamonga, CA at (909) 552-7550.