Rancho Cucamonga Water Leak Detection
Saving Your Property from Water Damage
At All City Plumbing, we provide some of the best, most affordable plumbing services in San Bernardino County, including leak detection. We have seen first-hand the damage that can be done by even small leaks, which is why we are motivated to help you find and resolve them as quickly as possible. Please connect with a member of our team as quickly as you are able and schedule an on-site evaluation with our experienced team. If you notice a water leak in your home, it is important to contact a professional as soon as possible in order to prevent further damage and in order to help save your property from serious damages that could be avoided with professional help. At All City Plumbing, we take water leak detection services very seriously and take pride in delivering exceptional customer services all throughout Rancho Cucamonga and the surrounding area.
Turn to us for top-quality leak detection services in Rancho Cucamonga. Get started by contacting our office today!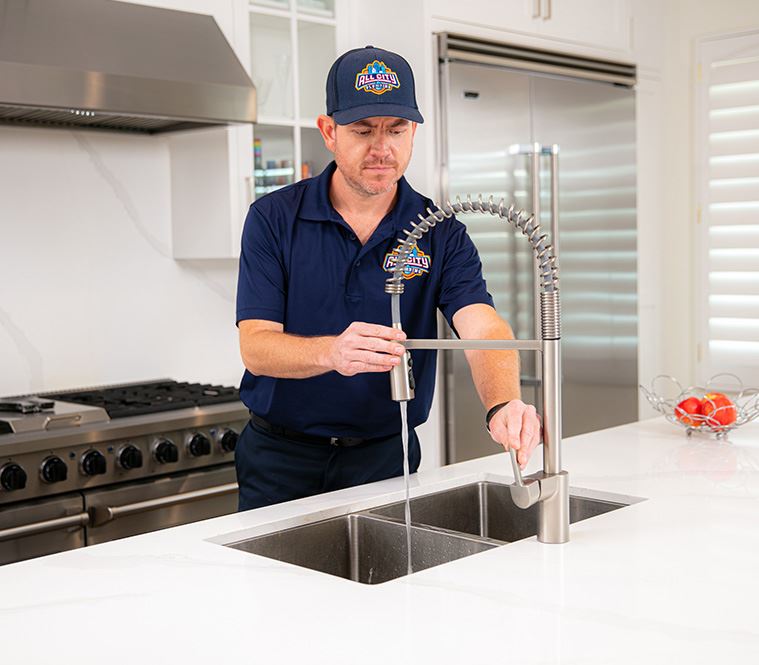 Don't Miss Out on These Savings!

Plumbing Problems Suck! We Get It. No homeowner wakes up in the morning expecting to have a pipe burst in a bathroom or a water leak inside their kitchen. When it happens, all you need is a trusted plumber who can diagnose and fix the problem right, the first time.
Signs of a Hidden Water Leak
There are several ways to tell if you have a leak somewhere in your home, such as:
Warped floorboards
Wallpaper that is stained, warped, or curled up
Raised spots and bubbles in your wall paint
Mold, mildew, and/or related odors
Higher water bills than usual
Damp spots on your carpet or on the walls
Warm floors (especially if your floors are only warm in certain places)
Pooling water in your home or in your yard
Expert Water Leak Detection Services
As soon as you spot the signs of a leak, chances are your home could already be undergoing serious damage—so don't wait. Get in touch with an experienced plumber in order to prevent costly damage to your home. When you call All City Plumbing, we use a variety of detection methods to spot pesky leaks and help you resolve the matter as soon as possible. No water leak is too big or too small for us to take care of. Our team of expert plumbers have years of combined experience and can detect the most difficult to spot water leaks, including slab leaks. We make sure to use only high-quality material plumbing material and equipment for all of our leak detection services, this way ensuring that we are delivering nothing but top-notch plumbing services. Trust us for your water leak detection services in Rancho Cucamonga, and you can rest assured that we will take care of everything the right way.
If you suspect your home may have a leak, call All City Plumbing today at (909) 552-7550 to request a free, in-person estimate. What Homeowners, Just Like You, Are Saying About All City Plumbing
"They did an amazing job and I will be calling on them again."

Nick and Will were professional, and polite, and explained everything clearly. I recommend them to anyone needing plumbing service.

- Amanda O.

"Great work and great attitude."

I am very happy about the service and recommend All City Plumbing to all my friends.

- J.F.

"Beyond satisfied and most certainly you will be, too."

Nick the plumber is a straight shooter...honest, professional, and 100 percent customer service oriented.

- Anthony A.

"Very good experience. Definitely recommend."

We really appreciated Donald covering his shoes before entering our home each time and how he cleaned the workplace thoroughly before he left.

- Biman G.

"Highly recommend this company!"

Shann was in and out super fast, very professional and polite, and went the extra mile to make sure everything went smoothly!

- Jennifer

"They provided quality workmanship."

Overall a great experience and I would definitely recommend All City Plumbing!

- David M.

"They were clean, polite, thorough & and worked very hard."

They were clean, polite, thorough & and worked very hard. I highly recommend them if you want your project done right and at a decent price.

- Margo K.

"They have easy financing that is not harsh on the wallet."

All very sweet and did an awesome job. I would recommend this company to everyone.

- Jennee F.

"Gave us the best price & the quickest service."

I would highly recommend you request Paul when calling he explained everything in great deal I have a new plumber who I feel very safe with and he is above all honest!!!!!

- Emily C.

"Genuinely cared about providing me a great experience."

Thanks for coming out so quickly and helping me get the hot water back on. Definitely will contact again!!!

- Cam A.
Fast, Affordable Plumbing Solutions
At All City Plumbing, all of our employees undergo weekly training and are held to high standards of professionalism and efficiency, so you can count on receiving exceptional service every time you interact with us. We also work to reduce labor time and use cost-effective materials, that way you never have to pay more or wait longer than necessary. Let us be your go-to plumbing service provider! Our Rancho Cucamonga leak detection services are backed by thorough, experienced plumbing professionals that have combined years of plumbing experience.
Contact us to learn more about what we can do to make your home a better place for you today.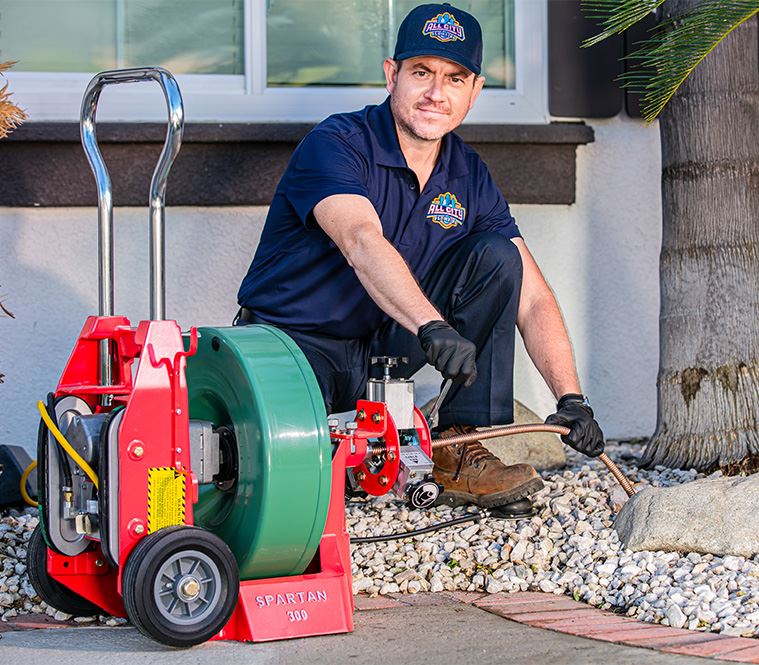 Been in Business for 13 Years

Over 50 ACE Certified Plumbers

30,000+ Satisfied Customers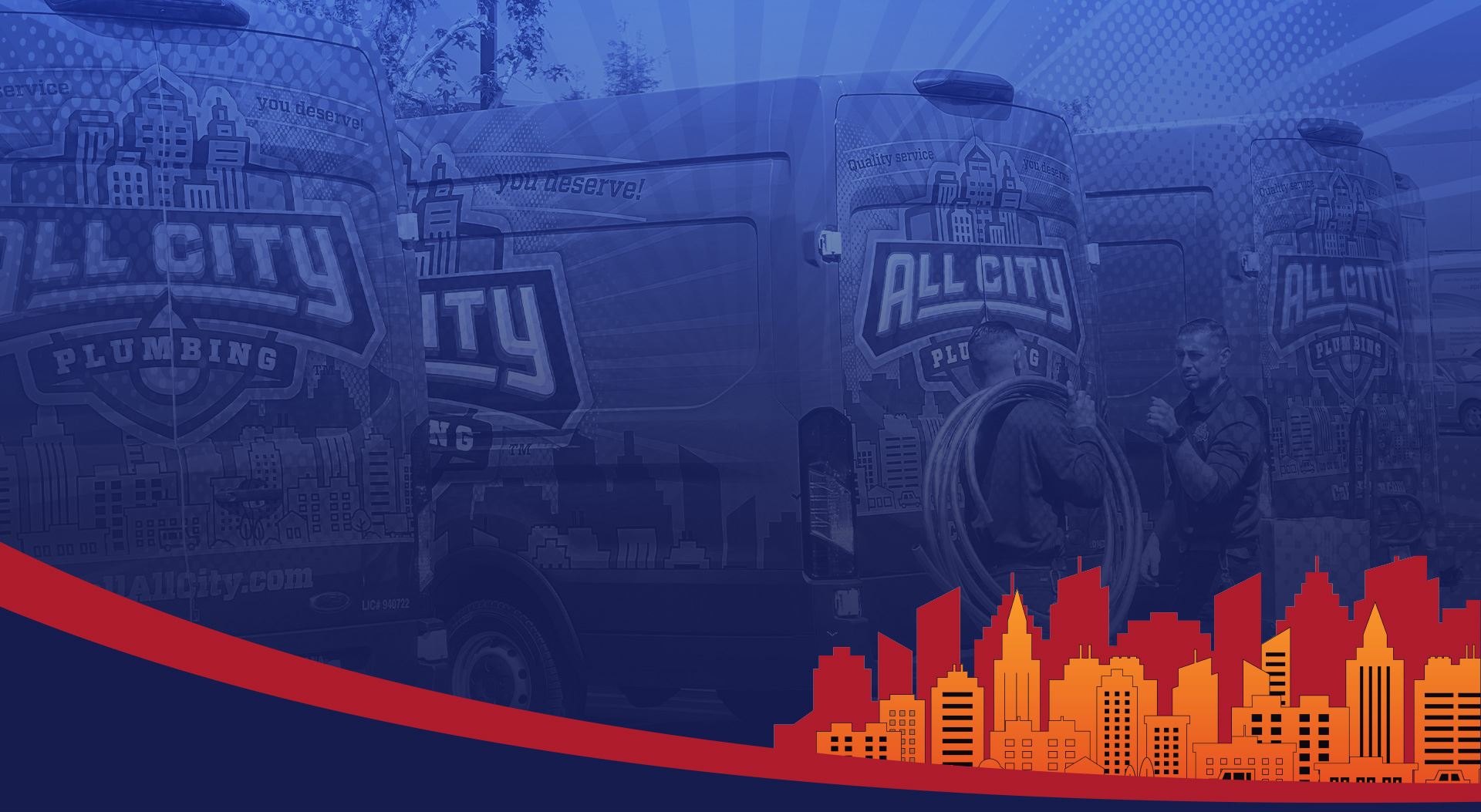 Life's Too Short
For Bad Plumbers
With All City Plumbing, your plumbing job will get done right the first time with the best talent in the industry. Contact us today to schedule your service.
Got Questions? Call Us!
Dial (909) 552-7550 or fill out our form below to get in touch with our expert plumbers.