Removing Water Stains
Water stains on tubs and tile are a result of minerals found in water, most likely calcium, magnesium or iron. When the minerals attach to the tub or tile's surface, they harden, making it difficult to remove, but not impossible.
Even with filtering systems, these minerals form a residue, causing the discoloration, ranging from pale yellows, greys and reddish-brown hues.
What looks like rust is a result of the iron atoms interacting with the air. Water stains expose the calcium and magnesium and other mineral deposits showing up as pale white or yellow discolorations. The grey color spots are a build-up from the minerals and body oils removed during showering and bathing.
Bacteria
It's no surprise to find bacteria on the surfaces in these moist environments. After showering or bathing water residues, or stagnant water containing dead skin cells and soap deposits provides the perfect setting for bacteria growth.
Some bacteria are airborne, contributing to the development of mold and mildew; more important are the effects on health. Keeping the tub and tile spotless requires regular cleaning using the proper cleansers.
Cleaning
Removing these tough stains can be done; the cleaning tools should include a non-scratch soft bristle brush to avoid damaging the tub and tile. Using stainless steel or wool pads may damage the surface, leaving scratches or removing the protective coating or sealant on all tubs and tiles.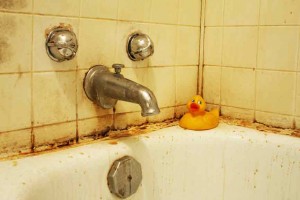 These scratches can also make it easier for stains, mineral deposits and bacteria to return and without the protective coating managing these water stains is difficult. Misuses from cleaning and damages caused to the tub or tile may also affect manufacturer warranties.
Read the labels when selecting a cleanser, non- abrasive, especially for fiberglass, plastic, marble or other natural surfaces.
Consider different types of cleaning compounds:
Alkalis – break up oils
Acids – break up stains
Disinfectants – antibacterial kill germs
Solvents – dissolve soils
Surfactants - loosen soils
Precautions
There are handling and health precautions when using commercial cleaners, hiring a professional plumbing service can ensure the safety of the tub and tile and prevent dangerous vapors that can be harmful.
Trying to get rid of those awful stains in your home? Call All City Plumbing at (909) 552-7550 today and see how we can help!