The bathroom is one of the most important locations in a home. It is not only used daily by the family but also by guests.
Planning for the Remodel is Important
Planning is the basis for the successful bathroom remodeling. First, figure out your budget, determine if a room enlargement is feasible and call a plumbing contractor in your city. Such a contractor will have personnel experienced in all types of plumbing, installation of new fixtures and bathroom remodeling. This will provide you with the best services possible to help the remodeling process go smoothly and professionally.
Here are a few common bathroom problems:
It is too small
It is outdated
Fixtures are out of style
Leaking pipes
Too hot or too cold
Needs more daylight
Tubs, showers, and/or toilets need replacing
Wall tiles are cracked or broken
Mold problems
Flooring is worn out
Limited storage space
1) A small bathroom can often be enlarged with a little planning.
By removing a small piece of a wall, a closet in an adjoining room could be used to enlarge the bathroom area. This may allow space for placing the toilet out of the way or, if the closet is big enough, create a new location for the bathtub and shower. Sometimes an additional room that is not being used, can be incorporated to make a larger space. Your local plumber can inspect the premises, make suggestions and provide a cost estimate.
2) The bathroom is outdated.
Many people leave any bathroom remodeling as the last thing to update in their home. Unfortunately, over time the entire room can become outdated. This includes the wall covering, lighting, and other features. Having an outdated bathroom can ruin the décor of the entire house. Imagine visiting someone's home and going from a modern, up-to-date room into one that has obviously seen better days. Your contractor can show you pictures of new styles and designs that are on the market to help you make a choice.
3) There are many beautiful fixtures in today's market.
These fixtures are available in modern, transitional, traditional, and many other styles. They are also available in a number of installation styles that will complement any bathroom décor. Having the fixtures match the style you have selected is important if the entire room is to be in harmony. Ask your contractor what is available and suitable for the project. He will be able to order these for you.
4) Leaking bathroom pipes can lead to many problems.
These problems include warping cabinet interiors, water on the floor, and other damage. When remodeling, the water pipes usually must be moved or replaced. Making repairs and/or installation requires the expertise of a professional in the plumbing business.
5) It either gets too hot or too cold in the bathroom.
Many times a bathroom is incorrectly attached to the home's heating and cooling system. Having a comfortable temperature in a bathroom is relaxing and is especially appreciated when taking a shower. Having a specialist involved in installing a new system or adjusting an old one is especially important if the desired result is to be achieved.
6) The room could use more natural light.
Having daylight in a bathroom can make a huge difference in the overall feeling of spaciousness. Of course, installing a proper window is the first choice. However, if the bathroom is in a location that has no access to the exterior walls in the home, a skylight can make a huge difference. If a skylight is not practical, a recessed canister light will provide bright and even illumination throughout the room. Your plumbing contractor will arrange for a reliable subcontractor to handle electrical changes.
7) The fixtures need replacing.
Bathtubs, showers, and toilets that were installed when an older home was built are now completely out of date. Modern designers have transformed these ordinary-looking accessories into things of beauty, which can completely transform a room. Things such as an open shower, a hot tub, and other changes can turn the room into a showplace rather than an ordinary room that has no appeal.
8) The wall tiles are cracked or broken.
Wall tiles are wonderful things when properly applied in a bathroom. Unfortunately, those that were placed in the '60s, '70s and '80s have outlived their use. Over time, they lose their luster and sometimes become cracked or broken. In addition, the grout often dries up and falls off. Today's tiles are specially made with long-lasting materials, finishes and fantastic designs.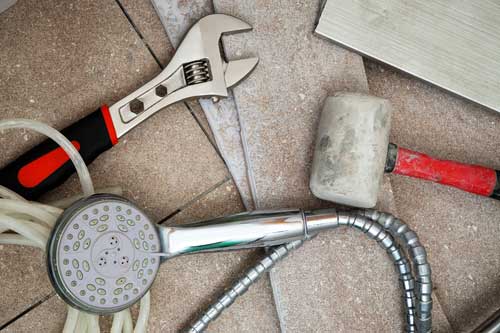 9) Mold and mildew are causing hazardous living conditions.
Mold and mildew have proven to be detrimental to a person's health.
In addition, they can also cause discoloration around the toilet and other locations where moisture may appear. Having the proper water and duct systems installed will eliminate these problems.
A plumbing expert needs to be called immediately when any kind of a leak occurs. This will help prevent mildew or mold growth.
10) New tiles are a necessity.
When the floor in a bathroom becomes worn, it is usually obvious. Years of wear will make marks on any type of flooring, including tile. Today there are floor products, such as porcelain tile, that will not only match the remodel plans but also will last for many years to come. Ask your contractor for details.
Other Considerations
When many bathrooms were constructed, in older homes, there was not a lot of thought given to storage space for towels and personal accessories. A wall medicine cabinet and a sink-cabinet combination were common.
Today, it is possible to put in a double sink with lots of counter space and built-in cabinets. Granite and quartz are popular choices for bathroom countertops.
Plumbing by a qualified contractor is essential for proper installation of these accessories.
Whether you tear down the walls completely, expand the room with an addition or make other changes, it will increase the value of your home. Of course, such a change will depend on your budget, the amount of space involved and what you wish to accomplish.
Essential to your project is hiring the right plumbing professional who can handle all aspects of the remodeling project that you have in mind.
For quality services call All City Plumbing at (909) 552-7550.