Installing an advanced water filtration system has an abundance of benefits. From better health and wellness to a cleaner home, cleaner water can impact the entire household. Not only do water filtration systems produce healthier water than tap water, but they are also much more cost-effective than bottled water. There is a list a mile long of the overall benefits of cleaner water, but here are some highlights.
Water Filtration Benefits
1. Fewer Toxic Chemicals in Your Tap Water
There are over 2,000 toxic chemicals in most tap water. Fewer than 60 of these chemicals have their levels regulated by the Environmental Protection Agency. Long-term effects of many of the remaining chemicals have not been formally studied. Filtration systems filter up to 99.9% of chemicals from the water in the home.
2. Better For the Environment
Americans consume 50 billion bottles of water every year. Globally, the number of bottles has topped a staggering 200 billion annually. Plastic bottles pollute the earth and take millions of years to decay. This level of waste is bound to take a toll on the environment. Water filtration systems offer all of the advantages of purified water without the waste of bottles.
3. Cost-Effective
The average household in America consumes about $245 worth of bottled water per person per year. For a family of 4, this adds up to around $975 per year in bottled water alone. This does not account for any special water needs like cooking. The cost to install an advanced water filtration system can look high at first.
Most households with a water filtration system pay between $700 and $2,000 for initial installation. Considering that the price for bottled water is around $1,000 a year, this is a worthy one-time investment. Systems tend to have long lifespans, so they pay for themselves rather quickly.
4. Better Quality of Life
As the old saying goes, "You are what you eat." Well, this is somewhat true. A better statement would be, "You are what you drink." The human body is 70% water.
As such, high-quality water is not only important, it is vital to your life. Pure water can help the body to have stronger nails, shinier hair, recover from illness quicker, and absorb nutrients better. Cleaner water also helps to rinse away soap build up more effectively from skin and hair. Purified water has also shown to better for skin conditions like acne, dermatitis, and psoriasis.
5. Better Water for Cooking
A better quality of water can directly affect cooking. First of all, tap water can smell like chemicals or even somewhat sour in many cases. This could affect sauces and marinades immensely. Some excess minerals in tap water can also stick to foods like pasta and change their texture. For those who love to cook, a water filtration system is a great way to make food both healthier and tastier.
6. Prolonged Appliance Life
Appliances such as dishwashers, laundry washers, showers, and toilets have a longer life if used with filtered water over tap water. Lime and calcium build-up can cause a lot of pipe damage as well as clogged and worn faucets and drains. Cleaner water can help to avoid these for longer-lasting appliances. Learn more here: 7 Big Disadvantages of Hard Water
7. Lower Risk of Certain Health Problems
Studies show have shown that people who drink filtered water are 33% less likely to develop gastrointestinal infections than those who drink tap water. Additionally, calcium in tap water can lead to painful kidney stones in many people. Filtered water is also much easier on the stomach's natural chemical balance than tap water. This can help reduce the risk of ulcers and acid reflux.
8. Cleaner Dishes, Sinks, and Showers
In addition to being better for human consumption, purified water is also better for cleaning. Dishes become less spotted from soap scum and mineral buildup. Showers remain cleaner longer due to reduced levels of bacteria. Clothes remain brighter due to decreased chlorine content. Drains remain unclogged due to less lime and calcium.
Everything in the home is a little bit cleaner and brighter with better water.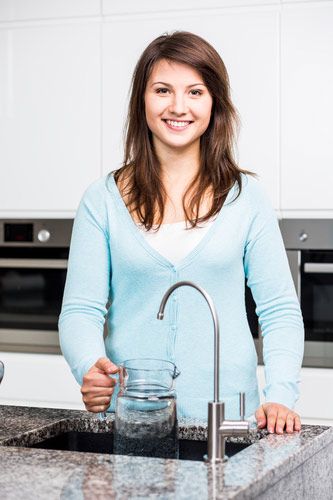 9. Better Water for Pets
What is better for you to consume is also better for your pets. Cleaner water can help pets to live longer and happier lives with fewer medical ailments.
Because filtered water rinses with less residue than tap water, pets washed in purified water may have fewer instances of skin irritation as well as healthier skin and fur.
10. Easy to Have Installed
Water filter installation is an easy process. A local plumbing company is the best bet to help with the endeavor. It is infinitely better to have a local professional install a water system than to attempt any form of DIY project.
Water filter installation that is not done properly can lead to costly and inconvenient repairs. Professionals can also help answer any questions about the type of system to purchase as well as the installation process.
There has never been a better time to install a water purification system in your home. The benefits both to yourself and your loved ones, as well as your pocketbook, make an advanced water filtration a must-have.
Better drinking water coupled with longer appliance life and better health are always important. The product will also more than pay for itself in the long run. Now is the time to invest in an advanced water filtration system!
For help with any water filtration needs in your city, make sure to call All City Plumbing at (909) 552-7550.