Glendale Sewer Line Repair & Replacement
Serving Our Neighbors Throughout Los Angeles County Since 2009
If you're looking for fast and effective sewer line repair and replacement services in Los Angeles County you can trust, look no further than the dedicated and experienced team at All City Plumbing. Our professionals are not only friendly, but they are also experts in their field. We realize our industry is ever-evolving, which is why our plumbing technicians are among the best trained in the area to make sure we stay up to date on the latest practices and techniques. When it comes to customer service, you can be sure that our technicians will do everything possible to remedy your plumbing problems. Our team takes pride in being able to offer high-quality products and services to our customers at affordable rates. Our Glendale sewer line repair specialists will quickly locate the cause of your sewer problems and efficiently restore your system.
Whether you are a resident of Glendale or a neighboring community, you can rely on All City Plumbing for all your sewer line repair and replacement needs. Contact us today at (909) 552-7550 to learn more about how we can help you!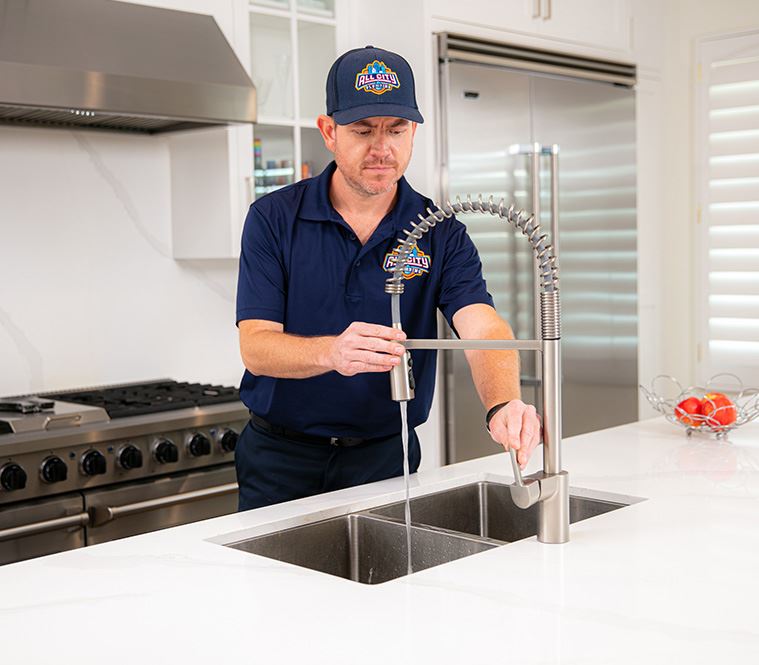 Plumbing Problems Suck! We Get It. No homeowner wakes up in the morning expecting to have a pipe burst in a bathroom or a water leak inside their kitchen. When it happens, all you need is a trusted plumber who can diagnose and fix the problem right, the first time.
Professional Sewer Line Repair and Replacement Services You Can Trust
At All City Plumbing, we offer a comprehensive selection of sewer services, from minor repairs to complete replacements. Our plumbers are equipped with the latest tools and techniques needed to get the job done right the first time. You can trust our technicians to complete your repair and replacement services without causing unnecessary damage to your property. We understand that sewer lines can be difficult to reach, making traditional repair methods can be invasive and costly.
There are many benefits to trusting our Glendale sewer line repair and replacement professional for your plumbing issues; we provide:
Efficient diagnosis and repair: Our technicians have experience diagnosing and resolving sewer line issues quickly and efficiently.
Advanced equipment: We use advanced equipment such as cameras, hydro-jetting machines, and trenchless technology to diagnose and resolve sewer line problems.
Cost-effective solutions: Our team provides cost-effective solutions that save you money in the long run by preventing future problems.
Healthier living environment: A properly functioning sewer system prevents sewage backups which can lead to unpleasant odors, mold growth, and other health hazards.
Peace of mind: Hiring a professional plumber gives you the peace of mind that comes from knowing that your sewer system has been repaired or replaced correctly.
At All City Plumbing, we work hard to minimize any unnecessary damage to your home or business by using the least invasive means available. You can trust that your sewer system is in good hands. Call (909) 552-7550 to schedule an appointment. What Homeowners, Just Like You, Are Saying About All City Plumbing
"They did an amazing job and I will be calling on them again."

Nick and Will were professional, and polite, and explained everything clearly. I recommend them to anyone needing plumbing service.

- Amanda O.

"Great work and great attitude."

I am very happy about the service and recommend All City Plumbing to all my friends.

- J.F.

"Beyond satisfied and most certainly you will be, too."

Nick the plumber is a straight shooter...honest, professional, and 100 percent customer service oriented.

- Anthony A.

"Very good experience. Definitely recommend."

We really appreciated Donald covering his shoes before entering our home each time and how he cleaned the workplace thoroughly before he left.

- Biman G.

"Highly recommend this company!"

Shann was in and out super fast, very professional and polite, and went the extra mile to make sure everything went smoothly!

- Jennifer

"They provided quality workmanship."

Overall a great experience and I would definitely recommend All City Plumbing!

- David M.

"They were clean, polite, thorough & and worked very hard."

They were clean, polite, thorough & and worked very hard. I highly recommend them if you want your project done right and at a decent price.

- Margo K.

"They have easy financing that is not harsh on the wallet."

All very sweet and did an awesome job. I would recommend this company to everyone.

- Jennee F.

"Gave us the best price & the quickest service."

I would highly recommend you request Paul when calling he explained everything in great deal I have a new plumber who I feel very safe with and he is above all honest!!!!!

- Emily C.

"Genuinely cared about providing me a great experience."

Thanks for coming out so quickly and helping me get the hot water back on. Definitely will contact again!!!

- Cam A.
Signs You Need Sewer Line Services
A ruptured sewer line can cause severe damage to your home and lawn, resulting in thousands of dollars in expenses if not addressed immediately. It's dangerous to put off plumbing problems! Our experienced plumbers can quickly repair your broken sewer lines, but first, you must raise the alarm. If you're not sure what constitutes a sewer emergency, then look for signs of damage around your property.
If you notice any of these signs, contact our Glendale sewer line repair and replacement team right away:
Foul odors emanating from your drains or yard
Slow-draining sinks, showers, or bathtubs
Gurgling sounds coming from your toilet or drains
Puddles or standing water in your yard
While these tips can alert you to certain sewer line issues, a professional inspection may be needed to determine the origin and extent of the problem. Our Glendale sewer line repair and replacement team is equipped with the latest tools and techniques to inspect your system thoroughly and determine the level of repairs needed. If your sewer lines need to be replaced, our knowledgeable and experienced team can handle that as well! Don't let a broken sewer line wreak havoc on your home. Contact us today for swift and reliable service.
Exceptional Customer Service and Affordable Sewer Camera Inspection Services in Glendale
At All City Plumbing, our customers are our top priority. We believe in providing exceptional customer service and delivering fast and affordable sewer camera inspection services that our customers value and appreciate. Our Glendale sewer camera inspection team, along with other plumbers within our company, are among the most respected and experienced professionals in the business. We take pride in helping customers solve problems, and our dedication is evident through the quality of services we provide. As soon as you realize your system is compromised, contact our licensed and experienced experts to schedule an inspection. Sewer line damage and hidden clogs can back up your system and cause serious damage to your home. Don't let a minor plumbing problem turn into a costly home repair.
When it comes to exceptional customer service and reliable sewer camera inspection services, you can trust All City Plumbing. Contact us today by calling (909) 552-7550 for all your plumbing needs!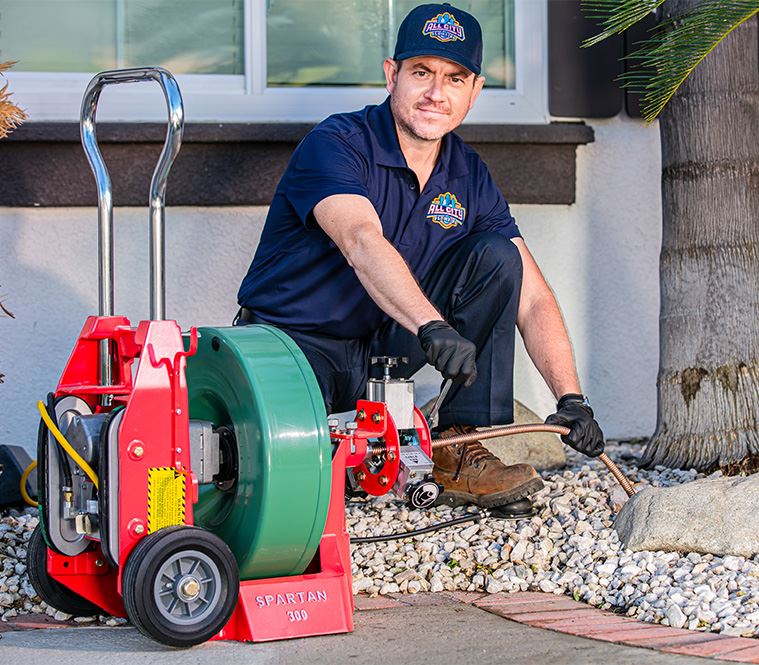 Been in Business for 13 Years

Over 50 ACE Certified Plumbers

30,000+ Satisfied Customers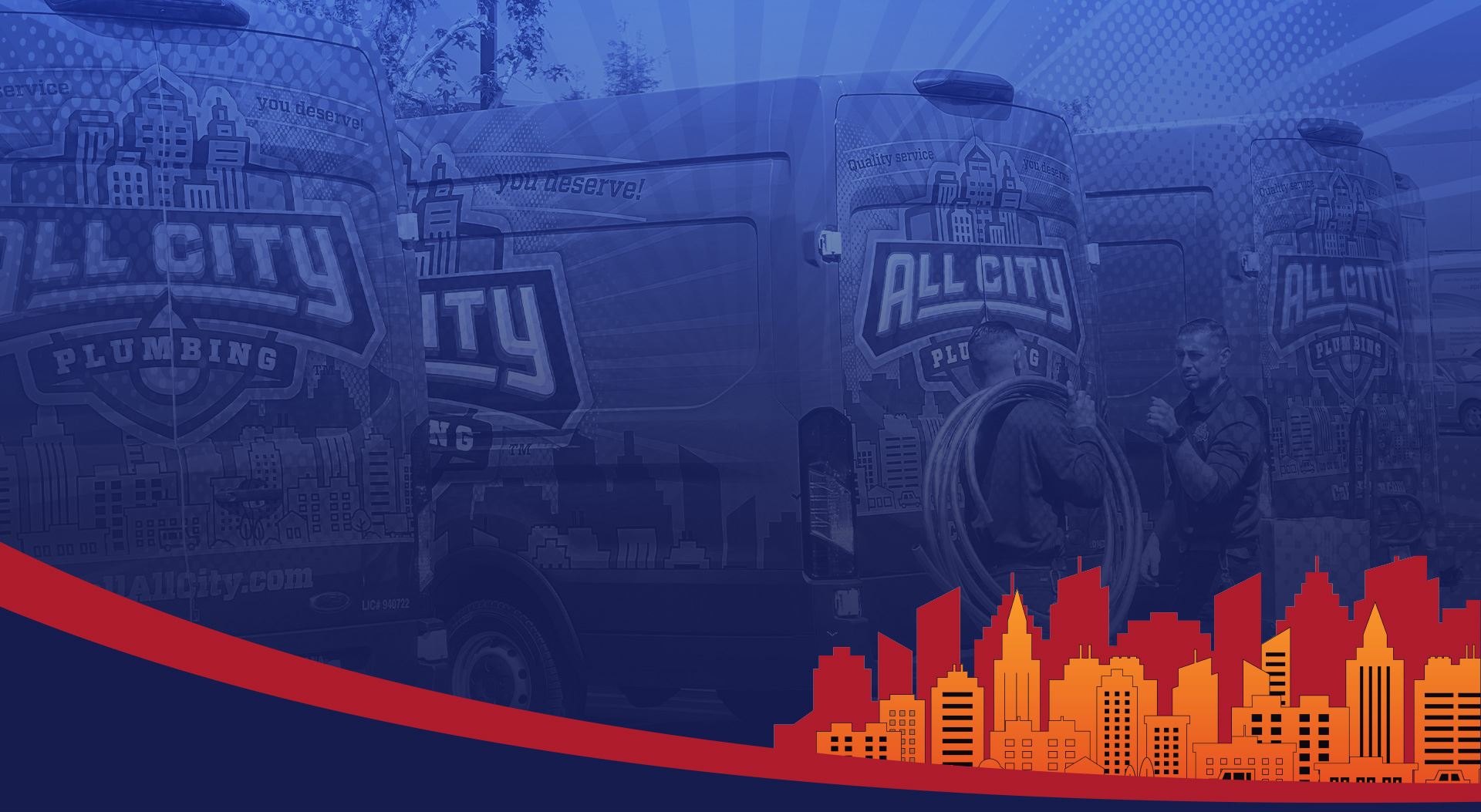 Life's Too Short
For Bad Plumbers
With All City Plumbing, your plumbing job will get done right the first time with the best talent in the industry. Contact us today to schedule your service.
Got Questions? Call Us!
Dial (909) 552-7550 or fill out our form below to get in touch with our expert plumbers.