Glendale Water Quality Services
Trust Us for Safe & Reliable Water Treatment Systems
Are you concerned about the quality of your tap water? Do you notice it looking cloudy or discolored? Perhaps it has an unusual smell? Don't worry--it's likely safe to drink, but if you want better tasting and cleaner water that won't leave hard calcium deposits on your dishware and plumbing fixtures, look into getting a water treatment system from All City Plumbing in Glendale.
Customers in Glendale can rely on All City Plumbing to provide the following:
Flow-Tech in-line water system installation
Filtration systems
Softening systems
Our Glendale water quality experts provide safe and reliable solutions sure to enhance and improve the water in your home or business. When it comes to the water you drink, you want to know that knowledgeable professionals are on the job!
At All City Plumbing, we have a reputation for providing reliable and trustworthy water quality solutions, making us the ideal choice for your home and business needs. Call (909) 552-7550 today!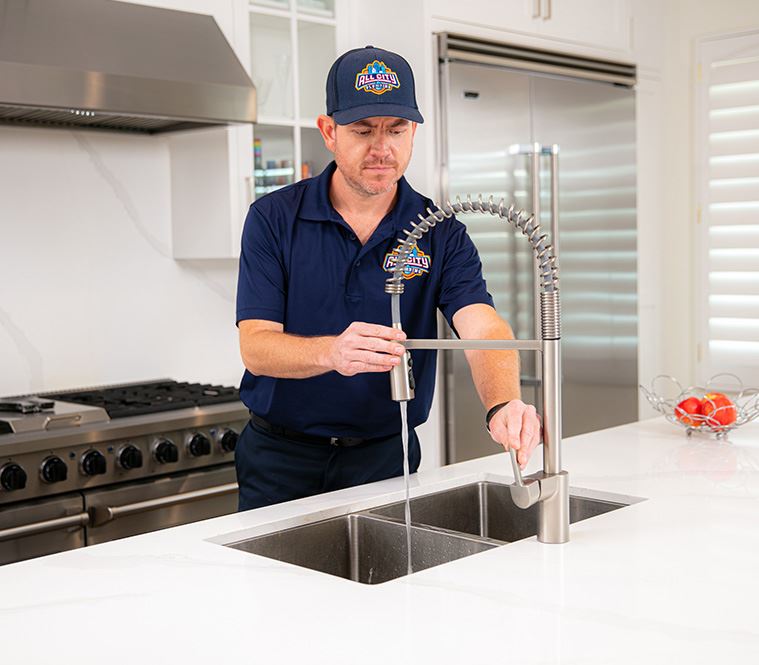 Plumbing Problems Suck! We Get It. No homeowner wakes up in the morning expecting to have a pipe burst in a bathroom or a water leak inside their kitchen. When it happens, all you need is a trusted plumber who can diagnose and fix the problem right, the first time.
What Is Considered Hard Water?
Hard water is water that has a high concentration of dissolved minerals like calcium and magnesium. These minerals cause problems such as scaling and spots on dishes, clothing, and fixtures. They can also make it difficult to get soap to lather properly. While hard water is not unsafe to drink, it can have an unpleasant taste and leave behind traces of mineral deposits in your home. To address the issues caused by hard water, you can install a water treatment system that will help reduce the mineral content of your tap water.
5 Signs You Have Hard Water
Hard water can have a variety of negative effects on your home and appliances. Paying attention to the signs of hard water in your home may help you decide whether or not to invest in a water treatment system. Here are five common signs that may indicate you have hard water:
Unusually high levels of soap scum on sinks, bathtubs, and shower walls.
Dull-looking or faded clothes after washing them.
Spots on dishes after washing them.
Low amount of suds when washing clothes or dishes with detergent or soap.
Faucets, plumbing fixtures, and other metal surfaces become corroded over time due to lime deposits from hard water buildup.
If you're experiencing any of these problems in your home, it's likely that you have hard water and could benefit from installing a water treatment system to improve the quality of your tap water.
Call the team at All City Plumbing at (909) 552-7550 or contact us online today. What Homeowners, Just Like You, Are Saying About All City Plumbing
"They did an amazing job and I will be calling on them again."

Nick and Will were professional, and polite, and explained everything clearly. I recommend them to anyone needing plumbing service.

- Amanda O.

"Great work and great attitude."

I am very happy about the service and recommend All City Plumbing to all my friends.

- J.F.

"Beyond satisfied and most certainly you will be, too."

Nick the plumber is a straight shooter...honest, professional, and 100 percent customer service oriented.

- Anthony A.

"Very good experience. Definitely recommend."

We really appreciated Donald covering his shoes before entering our home each time and how he cleaned the workplace thoroughly before he left.

- Biman G.

"Highly recommend this company!"

Shann was in and out super fast, very professional and polite, and went the extra mile to make sure everything went smoothly!

- Jennifer

"They provided quality workmanship."

Overall a great experience and I would definitely recommend All City Plumbing!

- David M.

"They were clean, polite, thorough & and worked very hard."

They were clean, polite, thorough & and worked very hard. I highly recommend them if you want your project done right and at a decent price.

- Margo K.

"They have easy financing that is not harsh on the wallet."

All very sweet and did an awesome job. I would recommend this company to everyone.

- Jennee F.

"Gave us the best price & the quickest service."

I would highly recommend you request Paul when calling he explained everything in great deal I have a new plumber who I feel very safe with and he is above all honest!!!!!

- Emily C.

"Genuinely cared about providing me a great experience."

Thanks for coming out so quickly and helping me get the hot water back on. Definitely will contact again!!!

- Cam A.
Why Customers Choose All City Plumbing
All City Plumbing is the leading provider of water quality solutions in Glendale, California. Our team of experts specializes in treating water with the latest in advanced filtration systems. We know that water quality is essential for your family's health and safety, which is why we are dedicated to providing you with the best solutions available. Our state-of-the-art systems remove impurities from your water, ensuring it is safe for consumption and use. In addition to our filtration services, we also provide leak detection and repair services. Our highly trained technicians are experienced in identifying and addressing plumbing issues quickly and efficiently, allowing you to get back to living comfortably in your home. We pride ourselves on providing the highest quality services to our customers and take pride in being your go-to plumbing company. Contact us today to learn more about our water quality solutions!
We look forward to helping you keep your home and family safe with clean, healthy water. Call the team at All City Plumbing at (909) 552-7550 or contact us online today.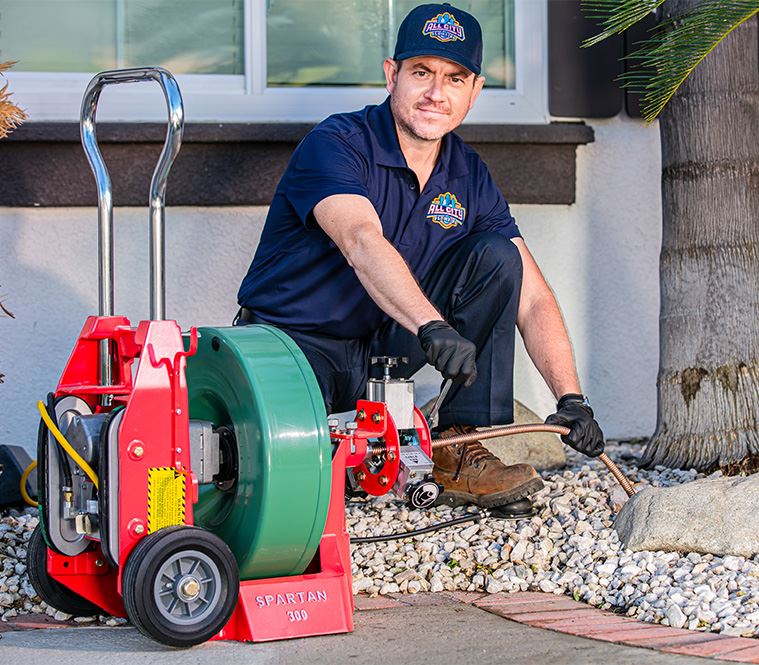 Been in Business for 13 Years

Over 50 ACE Certified Plumbers

30,000+ Satisfied Customers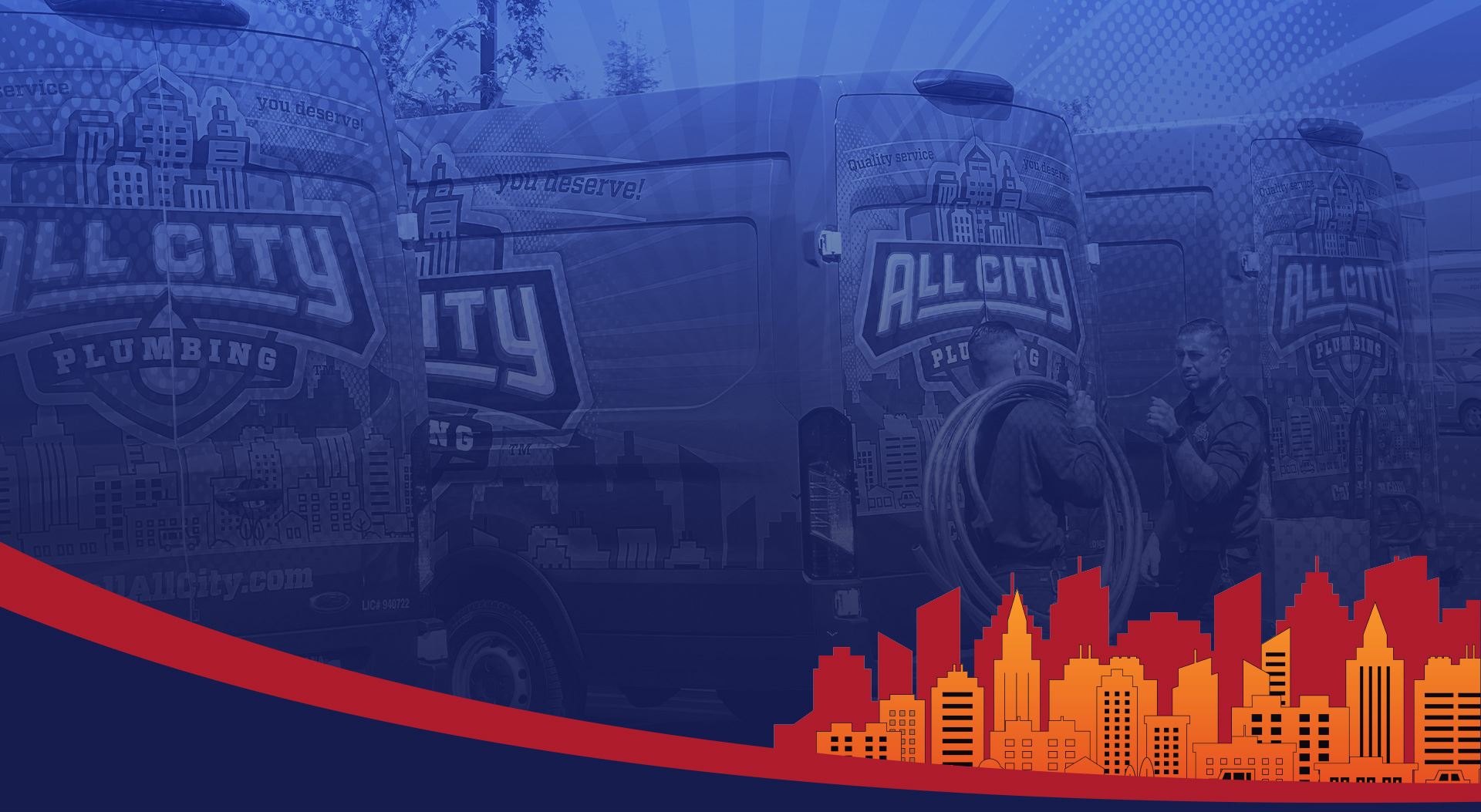 Life's Too Short
For Bad Plumbers
With All City Plumbing, your plumbing job will get done right the first time with the best talent in the industry. Contact us today to schedule your service.
Got Questions? Call Us!
Dial (909) 552-7550 or fill out our form below to get in touch with our expert plumbers.