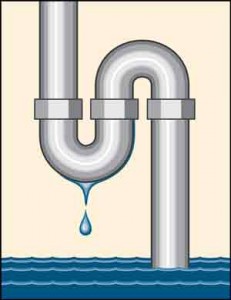 Finding a leak in your home can be troublesome; however, it is important to find a leak because a leaking pipe can cause a great deal of damage to a home.
Every homeowner has had their share of water leaks in the home. A recent survey has confirmed that an estimated 11,000 gallons account for leaks in each family home annually. This amount of wasted water is enough to take care of 270 laundry loads.
Anywhere in your home is susceptible to leaks, including the faucets, toilets, and shower heads. Sometimes the leaks are so minor, that homeowners typically overlook them. Sadly, it'll end up costing a homeowner more money and could cause other plumbing issues if it's left unfixed.
Of course, finding the source of the leak depends on the kind of leak you have. For example, a leaking pipe under your bathroom sink is easier to find than one that is blocked by a ceiling or wall.
Water Leaks are Costly
Keep in mind; that a water leak in your home can be costly. For every drop of water that is used, you pay, even if that water comes from a leak.
For someone who's not using water heavily, it's likely for the monthly water bills to reflect the same performance. Unfortunately, it won't if there's a broken pipe leaking water and a homeowner hasn't noticed it.
In addition, water leaks also can damage your home. A leak in your floors or walls can cause mold to grow. Actually, repairing a leak can add up to a lot of money.
However, there are several ways you can detect a water leak such as with a water heater. To find out if there is a leak in your water heater tank, check the pressure relief valve.
Because the pressure relief valve is connected to a drain, it could be leaking without you knowing it. One sign that it is leaking is if you hear a hissing sound coming from the water heater tank.
To avoid costly plumbing repairs, water bills, and other unwanted inconveniences that an untreated pipe leak can cause; continue reading and learn ways to detect hidden water leaks early.
Musty Odor in the Home
If the home has a musty odor even after cleaning, a broken or faulty water pipe is probably leaking somewhere. With water accumulating, it'll eventually damage the building structure if it's left untreated.
Examine the Hose Bib
Still another way to detect a water leak is with your hose bib. A hose bib is a faucet that is located on the outside of your home. Most of us use a hose bib when we attach a garden hose to it.
Listen for running water through the hose bib by using a metal screwdriver. This will conduct sound. Place the metal tip of the screwdriver against the hose bib. Listen carefully for the sound of running water.
Water Meter Check Confirms a Leak
It's possible to check if there's a leak in the home by examining the central water meter system. For those who aren't familiar with the process of how to locate and read the water meter, consulting a professional plumber is the best resource.
Mildew or Mold Growth on Walls
If non-shower walls have accumulated mildew or mold, there might be a faulty or broken pipe leaking within the concrete structure. Moist, dark areas are susceptible to mildew or mold growth.
To remedy leaky pipes, faucets or any other plumbing problems, it's sensible to call a licensed plumber. It's a cost-saving safety measure to prevent serious damage to the property and keep a breathable, safe living space.
Sagging, Damaged, or Stained Flooring, Walls and Ceilings
Some common signs that suggest a home has a water leak are if the flooring, walls and/or ceilings are stained, bubbling, warping or sagging. Sometimes, there's evidence of damage at multiple sites.
A broken or faulty pipe is usually to blame for this predicament, but a proper diagnosis is essential to determine what's wrong. Exposure to extreme levels of humidity can result in any of the above damages. If other issues surround the nature of the problem, such as an unusually or inexplicably unreasonable water bill, a leak is usually the first concern.
Common Areas To Check For A Water Leak:
There are multiple, household leaks that occur annually for many homeowners. If these symptoms are not treated, it can cost the homeowner thousands of dollars in damages.
Check Your Toilets!
Most water leaks occur in the toilets. Freshly-built homes are more prone to leaky toilets. Faulty supply lines or damaged fill valves are usually the culprits for leaks. It is best to decrease the amount of waste thrown into a toilet by putting a small garbage can in the bathroom.
Waste can cause the toilet to clog which leads to water leakage and overflows. A skilled plumber will inspect a toilet to see if the gate valves need to be replaced to reduce leaks.
One way to detect a water leak is with your toilet. If you suspect this, remove the lid from the toilet tank and listen for a hissing noise. As with a water heater tank, a hissing sound often means there is a leak.
Another way to see if your toilet is leaking water is to add a few drops of food coloring to the water in the toilet tank. Then, wait a few minutes and look to see if the water in the toilet bowl has changed color.
If it has changed color, that means there is a leak in the flapper that is allowing water to leak from the tank into the bowl. (One good note here is that the flapper can easily be replaced.
If you notice the water is continuously running into your toilet, take the lid off the back tank and check to see if the chain to the flapper is hung up. If you notice that it is caught and holding the flapper in an upward position, straighten the chain and monitor the toilet to make sure this handled the issue. If the water continues to run check with your plumber to see what is causing the issue. It would be a good idea to turn the water supply off to the toilet while you wait. Shut-off valves are located underneath the toilet to stop the water flow.
Check Behind Your Appliances
In addition, by moving appliances like a dishwasher out of their location, you can find out where moisture is coming from. For example, a damaged supply line on a dishwasher will leak around the appliance.
For kitchen or bathroom sinks, open the cabinet doors beneath the sinks and shine a flashlight inside. Then, look for moisture at joints and at the bottom of the P trap. Or, take out anything under the cabinet and look at the bottom for water stains, mold or mildew or dampness.
For floors, look around the fixtures and appliances that use water such as toilets and bathtubs. Warped or cracked flooring or spongy spots in the floor may show that moisture or a possible leak is causing water problems.
Give Attention to Your Washing Machine
This is the most used appliance in the home that deals with water. It can also be the most dangerous when it has a water leakage. Homeowners are advised by professional plumbers to keep the washer and dryer near the main entrance of the home and away from electronics and valuable items. Having a drain in the laundry room is beneficial in preventing water damage.
A licensed plumber could prevent water leakage from the washer by replacing plastic and rubber hoses with steel-braid hoses. This is a cost-effective method to prevent water damage and will only cost the homeowner a few dollars to purchase at a local hardware store.
Most plumbers will label the hose with a replacement date to prevent deterioration. Loose hose connections should be tightened and the water supply should be turned off when the home is left unattended for longer than a day.
Improving Your Plumbing System
The system that flushes out waste away from the home is related to 'plumbing'. It is a very intricate system that requires a lot of preventative maintenance. Homeowners should make sure to prevent frozen pipes in harsh weather. A plumbing professional has the ability to inspect the supply line of a home by looking for water spots on the floors and ceilings.
A homeowner should make sure to check their water bill every month to account for unexplained water charges. A professional is equipped with the right knowledge to search for wet soil erosion around the foundation of pipes and faucets.
To conclude, there are several ways to find a water leak in your home. Try one or more of the above tips and keep your home safe and dry!
Are you submerged underwater in your home? Call All City Plumbing at (909) 552-7550 today, and get your water leak repaired.