One of the easiest plumbing repairs that you can do around your house is hose repair. Leaky garden hoses are common problems that many homeowners eventually have to deal with, but instead of replacing the hose you can save money and restore it to perfect working order by performing some easy DIY solutions.
How can you repair your leaky hose and save money on your plumbing needs? Keep reading to find out:
Locate the Leak
The first step is to locate where the leak in your hose is coming from. Turn on the hose while you have the spray nozzle attached to build up pressure inside the hose, which will cause the leaks to reveal themselves. If the leaks are coming from the hose itself, make sure to mark the area with a permanent marker so you can find it when the water is shut off.
Is the Leak Coming from Your Gasket?
Issues with the gasket are common problems that can cause your garden hose to begin leaking, so inspect this area if the leak is located towards the end of your hose.
If the issue isn't with the gasket, then all you need to do to restore your hose to perfect working order is to snip the end off and use a hose barb kit to replace the old, leaking end with a brand new one.
Is Your Hose Bib Leaking?
Your "hose bib" is also referred to as the faucet which connects your hose to your home's plumbing system, and can be a common cause of hose leaks.
The first step to take is to inspect the packing nut, which connects your hose bib and may start to loosen over time. Use a wrench to tighten it as much as you can, but be mindful not to twist it too hard and strip the nut. If the leak persists, wrap a piece of Teflon tape around the stem of the faucet, which will prevent additional leaks from occurring.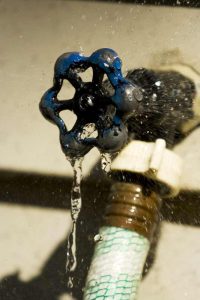 Is the Leak in Your Hose?
If your hose is leaking then don't worry, you don't have to buy a new one just to solve the leak.
Instead, head to your local hardware store and purchase a hose repair kit. Then, use a pair of garden shears to cut off the affected section of hose and reattach the two ends using the clamps and coupler provided in the kit.
This is an easier and more effective solution than trying to pack the area with plaster or another clogging agent, as it completely removes the problem area and will leave the rest of your hose intact.
When you need professional hose bib repair, don't settle for just anyone: call All City Plumbing in Rancho Cucamonga, CA at (909) 552-7550 and get high-quality, dependable solutions you can trust.