Rancho Cucamonga Drain Cleaning
Expert Drain Cleaning Services in San Bernardino County
At All City Plumbing, drain cleaning is one of the things we do best. We make a point to put our employees through weekly training so we're always up-to-date on the latest, greatest, and most affordable ways to clean drains, prevent recurring issues and minimize hassle for our clients.
Whether the current state of your home's drains is a minor nuisance or a serious problem, we understand how critical it is to keep them clean, clear, and fully functional, and we are prepared to get started right away. Connect with one of our knowledgeable, friendly drain and sewer experts as soon as possible to request your free estimate. Service is provided 24/7 and at no risk or unnecessary cost to you.
---
Are you looking for fast & reliable drain cleaning in Rancho Cucamonga? Call All City Plumbing today at (909) 552-7550 or contact us online to schedule a service with one of our technicians!
---

Serving Castles
Around the Area
All Plumbers Are Ace Certified

Been in business for
13 years

Over 50 ACE
Certified Plumbers

Best Triple Guarantee In Southern California

Industry Leading Warranties

30,000+
Satisfied Customers
"They came out on the Friday before a holiday weekend. They even came back the following day to finish up the job. They did not gouge their prices either for the holiday (sort of) service. Nick and Will were professional, polite and explained everything clearly. They even offered other services but did not "hard sell" us. They did an amazing job and I will be calling on them again. I also will recommend them to anyone needing plumbing service."

Common Culprits Behind Stinky Drains & Smelly Water
Are smelly water and stinky drains disrupting your home? While this experience isn't pleasant, it is almost always temporary because some quick diagnostics and easy-to-follow solutions can help your home smell great again.
Why are your drains stinky and your water smelly? There could be a number of causes:
Ventilation Problems. Your pipes can get clogged over time due to a build-up of food particles, soap scum, hair, or foreign objects. Other reasons for clogged drains include animals building nests or even intrusion from tree roots. Whatever the reason, your pipes get clogged, the air isn't allowed to flow freely, and bacteria grows, causing a foul odor. Moreover, sewer gases are blocked and end up back in your home, which is another reason for the bad smell. A professional drain cleaning service can fix this problem.
Water Heater Problems. Pour water into a glass and walk away from the tap. Does the water still smell in the glass? If yes, your

water heater

may be to blame. The warm, moist environment of your water heater is the perfect place for bacteria to grow, which will create a bad smell. The anode rod, which is present in the water heater to keep it from rusting, reacts with the bacteria, making the awful scent. This often happens if the water heater has been shut off for an extended period or if you've got it set at too low a temperature. Typically this odor has a "rotten egg" smell.
P-Trap Problems. The P-trap is easily identified: the curved part attached to the pipe under the sink. Its job is to provide a water barrier to prevent smelly gases from moving from the sewer into your home. If the P-trap has dried out, the water barrier isn't present. It can be as easy to fix as running the water. It's also possible that the water has leaked out if the seal is broken, which can be fixed easily too.
Sewer Line Problems. Walk around all of your drains and fixtures. Is the odor present in numerous areas in your home? It's not a clogged drain or pipe. The problem is probably the

sewer line

, which is potentially damaged. It's not carrying wastewater properly, and sewage isn't draining away from your home. This odor is decidedly musky. Other signs that it might be a sewer problem include low water pressure and a mysteriously rising water bill.
---
Contact All City Plumbing today to schedule your free, on-site estimate!
---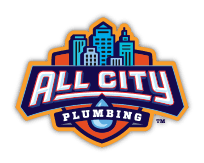 Contact Our Team
Fill out this form or call us at (909) 552-7550!