Sewer Camera Inspection in Rancho Cucamonga
Identifying Problems & Offering Personalized Solutions
Diagnosing sewer line problems is often a challenge. Many plumbers do not have the technology to see what is going on inside the line to view the issue in real time and come up with an effective repair plan. At All City Plumbing, we utilize advanced camera inspection technology in Rancho Cucamonga and the surrounding area, to reduce repair times and see the full picture inside your pipes.
Find out exactly what's happening in your sewer lines with sewer camera inspections by All City Plumbing. To book your inspection with one of our trained and experienced experts, call (909) 552-7550 today.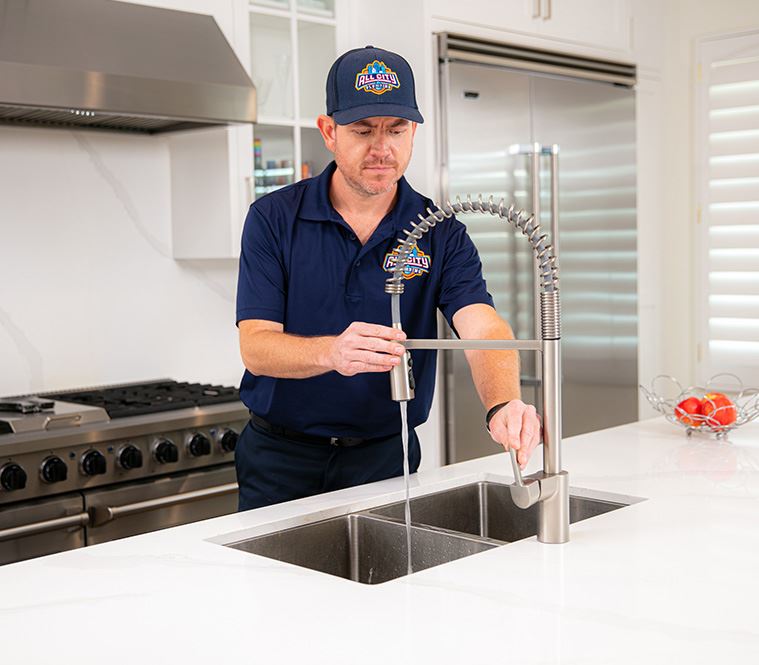 Plumbing Problems Suck! We Get It. No homeowner wakes up in the morning expecting to have a pipe burst in a bathroom or a water leak inside their kitchen. When it happens, all you need is a trusted plumber who can diagnose and fix the problem right, the first time.
How Does a Sewer Camera Work?
Sewer line cameras allow plumbing specialists to see inside your pipes and sewer lines without digging or trenching to expose the pipe. Often times, where there are problems that have to do with your sewer drains, it may be difficult, better yet impossible to pin point exactly what the cause of it is. It may also be difficult to really grasp a good understanding of how big the problem is itself. With a sewer camera inspection, our experienced technicians are able to really find what exactly is causing the problem. They will also be able to find any potential problems, and can help to repair them there and then. This is a great way to prevent potential costly repairs that can be avoided.
The device consists of a small pin camera on a flexible rod that is designed to fit inside the pipe. The camera is connected to a CCTV screen that allows the plumbing professional to see what is going on inside the pipes in real time. Our technicians can then maneuver the camera further through the sewer, this way pinpointing any issues on the spot. In addition to the motors that are used to control the sewer camera's movements, there are strong lights that allow for a clearer picture inside the sewer pipe.
Get started by calling us at (909) 552-7550 today. What Homeowners, Just Like You, Are Saying About All City Plumbing
"They did an amazing job and I will be calling on them again."

Nick and Will were professional, and polite, and explained everything clearly. I recommend them to anyone needing plumbing service.

- Amanda O.

"Great work and great attitude."

I am very happy about the service and recommend All City Plumbing to all my friends.

- J.F.

"Beyond satisfied and most certainly you will be, too."

Nick the plumber is a straight shooter...honest, professional, and 100 percent customer service oriented.

- Anthony A.

"Very good experience. Definitely recommend."

We really appreciated Donald covering his shoes before entering our home each time and how he cleaned the workplace thoroughly before he left.

- Biman G.

"Highly recommend this company!"

Shann was in and out super fast, very professional and polite, and went the extra mile to make sure everything went smoothly!

- Jennifer

"They provided quality workmanship."

Overall a great experience and I would definitely recommend All City Plumbing!

- David M.

"They were clean, polite, thorough & and worked very hard."

They were clean, polite, thorough & and worked very hard. I highly recommend them if you want your project done right and at a decent price.

- Margo K.

"They have easy financing that is not harsh on the wallet."

All very sweet and did an awesome job. I would recommend this company to everyone.

- Jennee F.

"Gave us the best price & the quickest service."

I would highly recommend you request Paul when calling he explained everything in great deal I have a new plumber who I feel very safe with and he is above all honest!!!!!

- Emily C.

"Genuinely cared about providing me a great experience."

Thanks for coming out so quickly and helping me get the hot water back on. Definitely will contact again!!!

- Cam A.
Benefits of Sewer Camera Inspection
Sewer line cameras have numerous benefits and advantages when it comes to diagnosing and locating sewer line problems.
Some advantages that come with sewer camera inspection services include the following:
Removing the guesswork: By inserting the camera and seeing exactly what is happening in real time, plumbers can provide a solid diagnosis and really pin point any issues. This way, you will be able to get a more accurate explanation as to what exactly is causing your sewer system to act the way that it is.
Saving time: Rather than going through many different solutions that may or may not solve the problem, plumbers can get right to the most effective solution right away.
Diagnosing multiple problems: Sometimes, there may be more than one issue that needs to be addressed with your sewer lines – a camera line inspection will be able to locate all potential problems and issues.
Preventative Maintenance: Sewer camera inspection services are also great when it comes to preventative maintenance, and helping you as a homeowner avoid costly repairs in the future.
Effectiveness: A sewer camera inspection is extremely effective, and can really address any problems that your sewer system may have.
Avoid Digging: One of the greatest things about a sewer camera inspection is that by using this device, your technician is able to avoid digging down to your sewer pipes directly, something that could potentially damage your lawn. It saves you time both at that moment, as well as in the long-run, since you won't have to worry about repairing any damages that may happen due to digging.
More than Just Sewer Repair
If you have ever felt the panic from accidentally washing something valuable down the drain, you'll appreciate this other common use for sewer camera inspections. Many times, homeowners will require us to use this technology to locate valuables such as wedding rings in the pipes. Small animals have also been found in the sewer lines using these cameras since they are so efficient at locating things.
Give us a call at (909) 552-7550 or contact us online to schedule an inspection today!
Why Choose Us?
Some of the unique features that truly set us apart from the competition include:
Straightforward, flat-rate price book for quotes
High-quality parts
Fully stocked vans for quick solutions and single trips
A hands-on owner who is easy to reach
Plumbers who are dispatched from their homes for quicker turnaround times
Technicians who respect your property by always wearing shoe covers and utilizing tarps and cleaning caddies to clean up afterward
Schedule an appointment with a highly trained, licensed, and certified plumber when you call (909) 552-7550 today!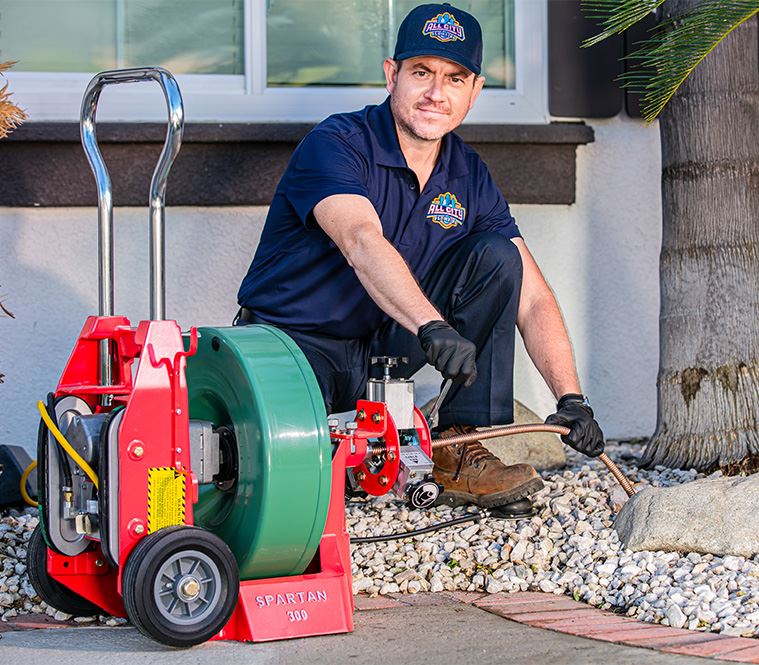 Been in Business for 13 Years

Over 50 ACE Certified Plumbers

30,000+ Satisfied Customers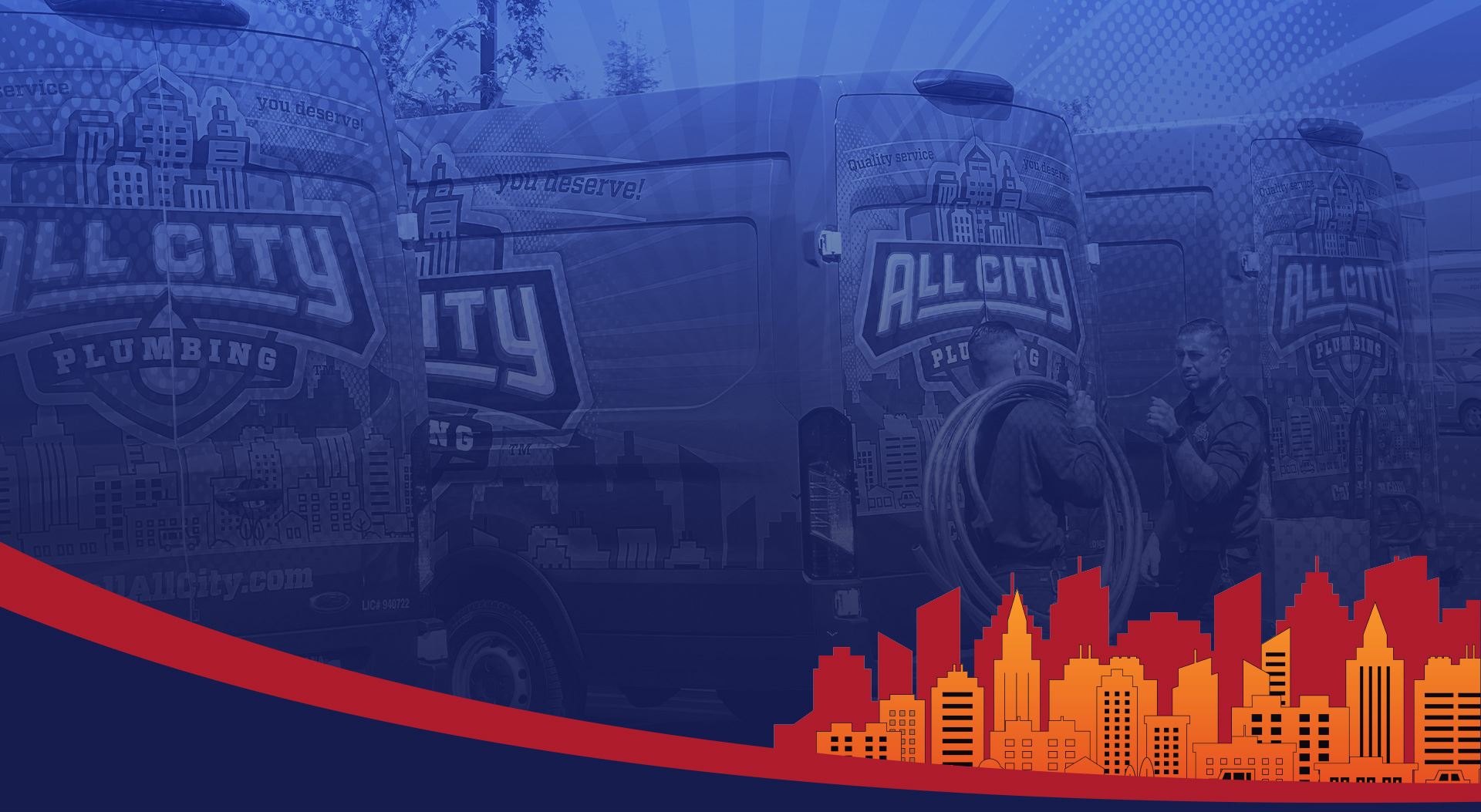 Life's Too Short
For Bad Plumbers
With All City Plumbing, your plumbing job will get done right the first time with the best talent in the industry. Contact us today to schedule your service.
Got Questions? Call Us!
Dial (909) 552-7550 or fill out our form below to get in touch with our expert plumbers.