Anaheim Sewer Camera Inspection
Identifying Problems & Offering Personalized Solutions
Clogged sewer lines can be challenging to diagnose. Damages to the lines are difficult to access because of the way sewer lines are installed and protected when a home or office is constructed. The sewer lines for a property are buried underground or hidden behind walls. If you've experienced sewer line problems in your home or office, you know how stressful and frustrating it can be to locate the source of a sewer line problem without the assistance of a knowledgeable and experienced professional. At All City Plumbing, our Anaheim sewer camera inspection professionals use state-of-the-art camera inspection technology, quickly locating any blockages and improving repair times for property owners. Our experienced and knowledgeable technicians can quickly find the problem with your sewer lines and provide a reliable solution to restore your plumbing to working order.
If you suspect your sewer lines may be working improperly due to clogs or damages, our Anaheim sewer camera inspection technicians can help. Our trained experts are only one call away at (909) 552-7550; contact us today!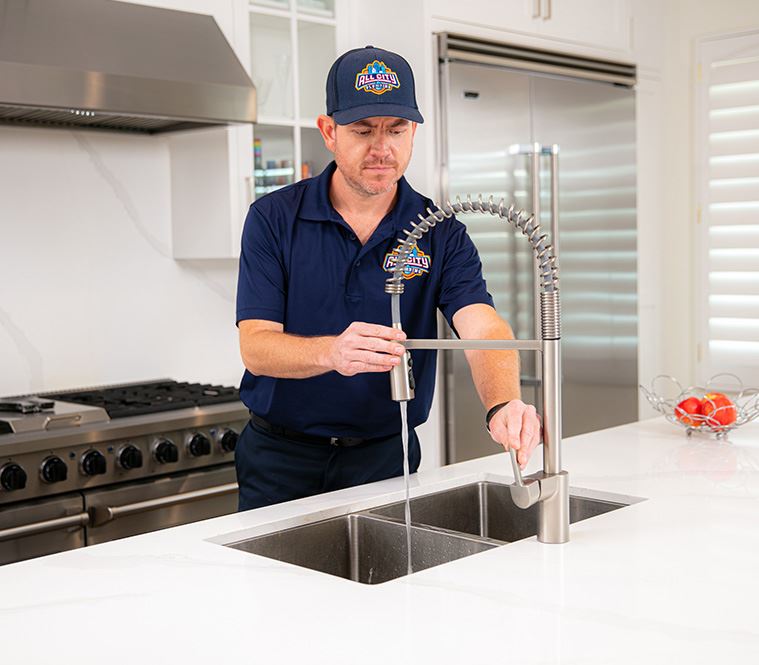 Plumbing Problems Suck! We Get It. No homeowner wakes up in the morning expecting to have a pipe burst in a bathroom or a water leak inside their kitchen. When it happens, all you need is a trusted plumber who can diagnose and fix the problem right, the first time.
How Does a Sewer Camera Work?
Considering sewer lines are placed in hard to access places that typically require excavation, it's not surprising how much the advancement of sewer camera inspections have revolutionized the plumbing industry. When there are problems with your sewers or drains, finding a way to access them without drastic and destructive excavation is vital. Before sewer camera inspections, finding the source of drain and sewer issues was nearly impossible. A camera-led inspection can quickly find the source of any drain or sewer problems and shave considerable time off any repair and replacement schedule. In a sewer camera inspection, the camera is on a flexible rod like a drain snake, making it easier to force it through the drain to find the source of your flow issues. The camera is connected to a CCTV screen, which gives the plumbing repair technicians a clearer picture of your drain and pipe's condition. We use this vital information to repair your systems and save time and money.
To schedule a sewer inspection service in Anaheim, give us a call at (909) 552-7550 or contact us online. Our team is ready to give you a free estimate! What Homeowners, Just Like You, Are Saying About All City Plumbing
"They did an amazing job and I will be calling on them again."

Nick and Will were professional, and polite, and explained everything clearly. I recommend them to anyone needing plumbing service.

- Amanda O.

"Great work and great attitude."

I am very happy about the service and recommend All City Plumbing to all my friends.

- J.F.

"Beyond satisfied and most certainly you will be, too."

Nick the plumber is a straight shooter...honest, professional, and 100 percent customer service oriented.

- Anthony A.

"Very good experience. Definitely recommend."

We really appreciated Donald covering his shoes before entering our home each time and how he cleaned the workplace thoroughly before he left.

- Biman G.

"Highly recommend this company!"

Shann was in and out super fast, very professional and polite, and went the extra mile to make sure everything went smoothly!

- Jennifer

"They provided quality workmanship."

Overall a great experience and I would definitely recommend All City Plumbing!

- David M.

"They were clean, polite, thorough & and worked very hard."

They were clean, polite, thorough & and worked very hard. I highly recommend them if you want your project done right and at a decent price.

- Margo K.

"They have easy financing that is not harsh on the wallet."

All very sweet and did an awesome job. I would recommend this company to everyone.

- Jennee F.

"Gave us the best price & the quickest service."

I would highly recommend you request Paul when calling he explained everything in great deal I have a new plumber who I feel very safe with and he is above all honest!!!!!

- Emily C.

"Genuinely cared about providing me a great experience."

Thanks for coming out so quickly and helping me get the hot water back on. Definitely will contact again!!!

- Cam A.
Why Customers Choose All City Plumbing
With All City Plumbing, our customers are our number one focus. We want to customer service is at the heart of everything we do at All City Plumbing. Our Anaheim sewer camera inspection specialists provide fast and affordable services the residents of Orange County have come to value and appreciate. Our Anaheim sewer camera inspection team and the other plumbers within our company are among the most respected and experienced professionals you will find in the business. We love to help customers solve problems, and our dedication can be seen in the quality of the services we provide. If you think you may have a clogged drain or sewer line, don't wait to find out the hard way! Contact our licensed and experienced experts today to schedule an inspection. Sewer line damage and hidden clogs can back up your system and ruin your home.
Don't let a minor plumbing problem become a serious home repair. The Anaheim sewer camera specialists at All City Plumbing can locate the cause of your sewer problems today! Call our trained plumbers at (909) 552-7550. Help is only a call away!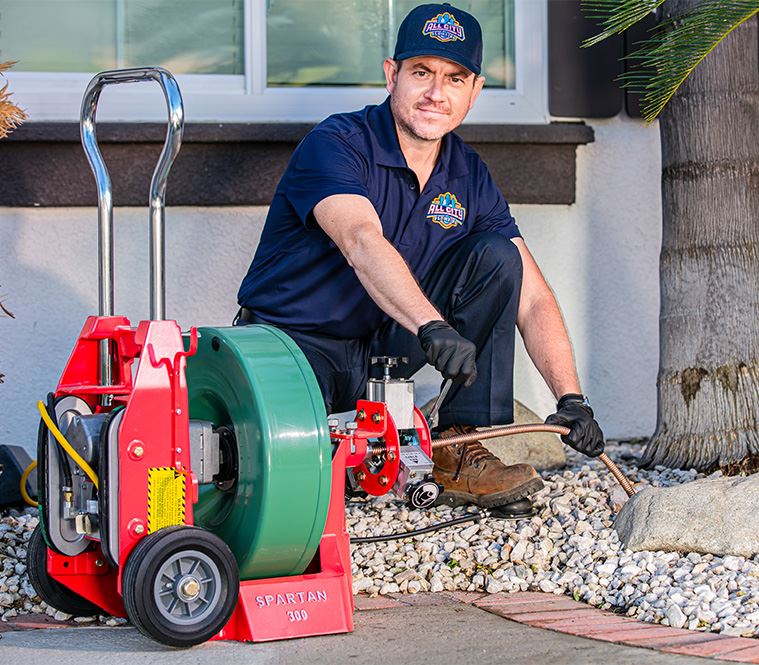 Been in Business for 13 Years

Over 50 ACE Certified Plumbers

30,000+ Satisfied Customers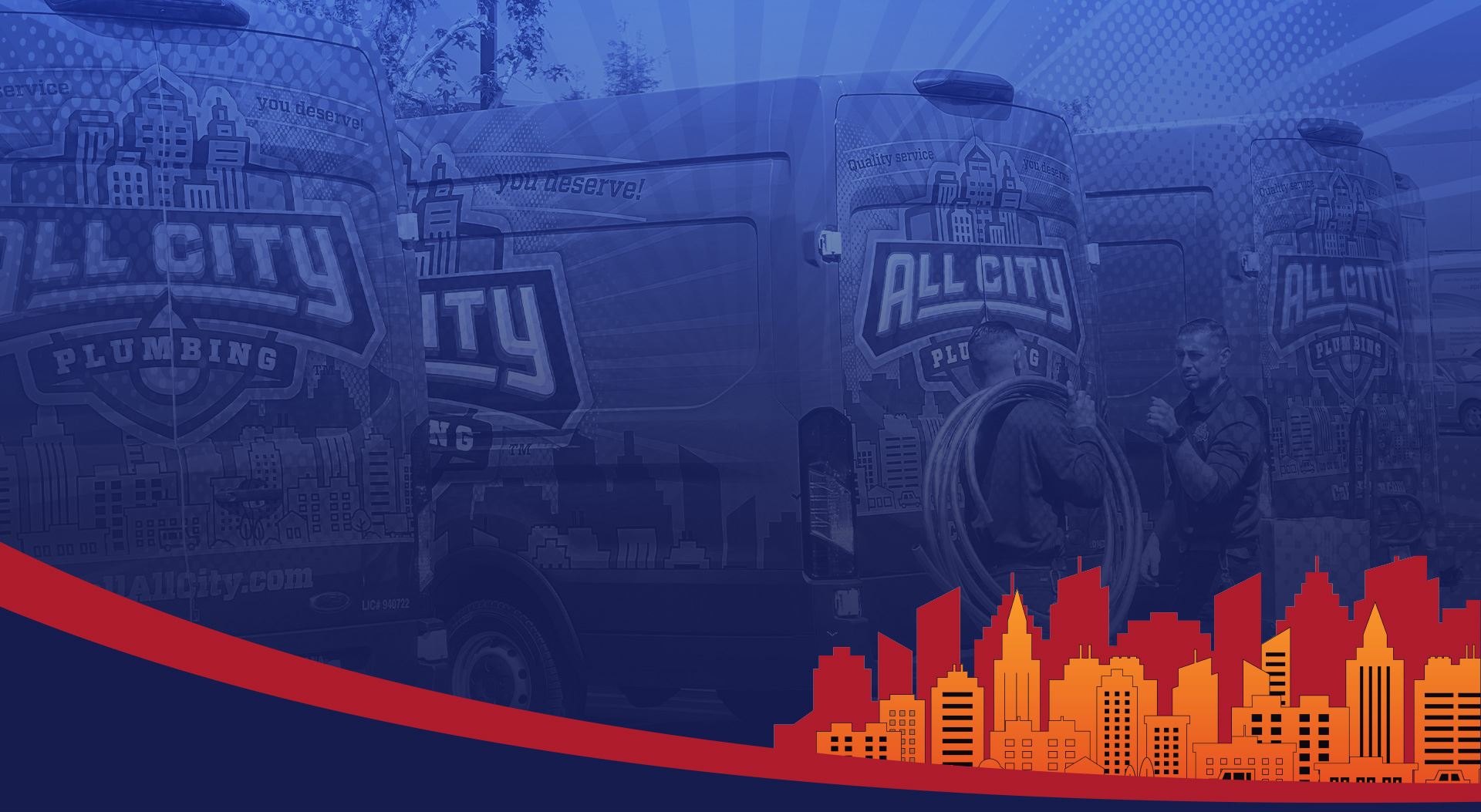 Life's Too Short
For Bad Plumbers
With All City Plumbing, your plumbing job will get done right the first time with the best talent in the industry. Contact us today to schedule your service.
Got Questions? Call Us!
Dial (909) 552-7550 or fill out our form below to get in touch with our expert plumbers.