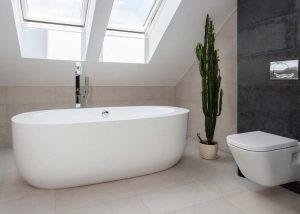 October is National Kitchen and Bathroom Month! This promotional month was created by the National Kitchen and Bath Association (NKBA) to give homeowners the opportunity to renovate their kitchens or bathrooms.
It takes place in October because it's a month after the kids go back to school, and it gives homeowners a chance to start a renovation project before the busy holiday season begins, making it the ideal time of year to upgrade your home and add value where it counts.
What are the Current Bathroom Renovation Trends?
Trends come and go, but 2016 has seen some of the most beautiful and practical bathroom trends that are sure to last for years to come. When renovating your bathroom, it's important to think of the practical aspect in addition to the design.
An impractical bathroom will be unpleasant to use, inconvenient to clean and generally the opposite of what you want in a bathroom. Some of the top trends for bathrooms this year include:
Freestanding tubs – Built-in tubs are losing popularity with homeowners as the freestanding or stand-alone tubs gain popularity. These types of tubs are beautiful to look at and provide a relaxing ambiance for taking baths. The only challenge with a stand-alone tub is making sure the bathroom is large enough to also incorporate a stand-alone shower if needed.
Square fixtures – Gone are the days when soft, organic-looking fixtures were all the rage. These days, homeowners prefer a geometric silhouette with angular fixtures that are square or rectangular in shape. These fixtures are sleek and modern looking, making them popular with modern renovations.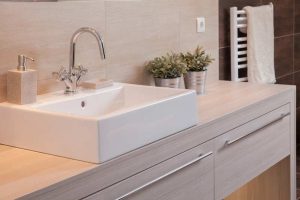 Trough sinks – This isn't the same trough you find in the barn. Trough sinks are gaining popularity with homeowners because of the oversized nature and simple look they create. These minimalistic sinks are a beautiful, modern addition to any bathroom. Combined with square fixtures, trough sinks offer a sleek and elegant look.
Which is Better? A Shower or a Tub?
Bathroom trends are moving towards separating the tub and shower from one unit to two separate units. But what if your bathroom is only big enough for one? There isn't a tried and true rule on choosing showers over tubs, but if you find yourself taking more showers and fewer baths throughout the week, you may want to consider a shower instead. Essentially, this is a personal decision not controlled by trends.
Kitchen Renovation Trends for 2016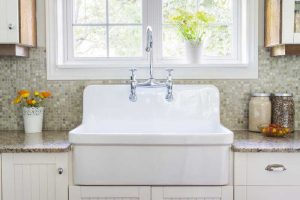 Are you considering a kitchen renovation? Try some of these futuristic and beautiful trends for your next project:
Automated faucets and fixtures with sensors.
Cast-iron, apron front sinks.
Commercial-grade appliances are functional and look slick.
Bold fixtures such as oversized faucets and stovetop fans that create a statement.
Modern, cabinets, drawers, and cupboards designed with damping and other futuristic features.
How to Avoid Trends that Won't Last
If anyone was around when carpeted bathrooms were popular, they'll know how important it is to be choosy about adopting trends in your home. When planning a bathroom or kitchen renovation, it's important to not get blinded by the trends and choose components that truly speak to you.
Bathrooms and kitchens are rooms designed for a specific purpose, so if any trends hinder that purpose or make things more difficult for you, in the long run, it's best to avoid them. Current trends are leaning towards simplicity and technologically advanced items so, chances are we won't be seeing any wild trends like shag carpeting in the bathroom anytime soon.
For more information on bathroom and kitchen renovations this month, contact All City Plumbing in Rancho Cucamonga, CA today. Call (909) 552-7550 to speak with one of our experts!