Rancho Cucamonga Faucet, Fixture & Sink Services
Experienced Plumbers Since 2009
Keeping your faucets and fixtures in optimal condition is a crucial part of plumbing maintenance. When you see signs of wear and tear, contact All City Plumbing for immediate assistance. We can help you keep your plumbing in good condition so you can continue with your everyday tasks and chores without interruption.
Fix your faucet, fixture, and sink problems with professional repair and installation. Contact All City Plumbing today to schedule Rancho Cucamonga faucet and fixture services. Save $15 on your new faucet with installation!

Serving Castles
Around the Area
Industry Leading Warranties
"They came out on the Friday before a holiday weekend. They even came back the following day to finish up the job. They did not gouge their prices either for the holiday (sort of) service. Nick and Will were professional, polite and explained everything clearly. They even offered other services but did not "hard sell" us. They did an amazing job and I will be calling on them again. I also will recommend them to anyone needing plumbing service."

Setting Your System Up for Success
Once an older faucet has been replaced, you can do a few things to prevent future leaks:
Periodically test your water pressure: We can even install a water pressure regulator for you. If your water pressure becomes higher than it should be, we can help you make the necessary adjustments.
Learn to listen for abnormal sounds coming from your pipes and faucets: These sounds indicate problems that can lead to leaks and other forms of damage.
Look for signs of rust on your faucets and fixtures: The presence of rust is a good indication that a leak exists.
Schedule regular maintenance checks with your plumber: Maintenance is a critical part of having a system that has the longevity and reliability you want.
Prevent major plumbing damage by knowing how to identify potential problems. The team at All City Plumbing is happy to help you with repair and replacement services. We provide reliable solutions at a fair price.
How Hard Water Affects Your Faucets
Hard water can cause clogs in your kitchen and bathroom pipes, as well as lead to problems with your faucets. Limescale can accumulate on the inside of a faucet, hindering smooth water flow. This accumulation can also make it difficult to replace a washer in your faucet, so preventive maintenance is advisable. The most effective way to reduce the issues associated with hard water is to install a water softener.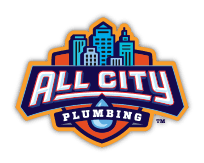 Contact Our Team
Fill out this form or call us at (909) 552-7550!