Your Yucaipa Plumbers
Local Plumbing Experts Serving Residential & Commercial Customers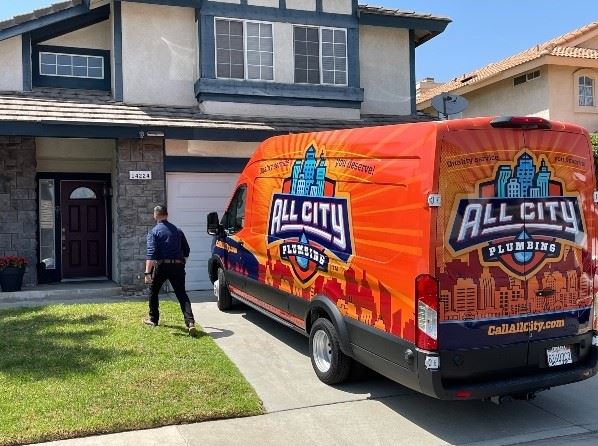 ​Are you looking for reliable Yucaipa plumbers? Tired of waiting around for a plumber to show up? You've come to the right place. All City Plumbing is the local plumbing company dedicated to top notch customer service. We are prompt, professional, and focused on delivering quality results. Take a look at what your neighbors are saying in our customer reviews, then get in touch with us today to schedule your appointment!
Contact us today to receive:
FREE pressure test with every service call
20-year warranty on select services
Fair prices
Same-day or next-day service
Quality parts in stock
Direct access to owner any time
Have a plumbing emergency? Call your Yucaipa plumbers at (909) 552-7550 for a FREE estimate. We offer quality workmanship at a great value you won't find anywhere else!
Professional Drain Cleaning Services
It's important to understand when you should call your plumber for drain cleaning. If a plunger is not working, or if you have multiple clogged drains in your home, you may need to contact us for professional solutions.
There are several benefits to professional drain cleaning. You won't have to worry about any more waste backing up or overflowing, and you will have a much healthier plumbing system going forward.
Through our drain cleaning services, you will also be alerted to any leaks in your plumbing system. Our plumbers in Yucaipa can repair these problems on the spot to stop further issues from occurring.
Is Hydro Jetting Effective?
Hydro jetting is an extremely powerful cleaning process for severely clogged sewer lines. It offers a complete clean and will eliminate even the most stubborn debris clinging to the pipe's walls. This service is geared towards commercial properties, such as restaurants and other high-occupancy areas, where it is easy for debris to accumulate in the sewer line.
Our hydro jetting process involves blasting high pressure water through the affected pipes to dislodge all of the debris. If you run a high-occupancy business and the plumbing lines in your property are prone to clogging, we can schedule annual or semi-annual hydro jetting services so you can continue to run your daily operation without any trouble.
What Are Signs That Hard Water Is Affecting Your Faucet?
If your home has untreated hard water, the first to show damage is your faucet. You may see discoloration or a white chalky substance on the faucet. You may also smell a foul odor near the sink.
To solve this problem, you will need to install a water softener. All City Plumbing provides full water softener installation services. We will help you choose the right system to fit your needs and budget. Once these softening system are in place, you will notice the change immediately and can start enjoying cleaner, fresher water for cooking, cleaning, and drinking.
Additional Plumbing Services in Yucaipa
Water Heater Installation & Repair
Repiping
Burst Pipe Repair
Water Leak Detection
Sewer Line Repair & Replacement
Gas Line Repair & Installation
Clogged Toilet Repair
Slab Leak Repair
Garbage Disposal Services
Commercial Plumbing
From drain cleaning to water softener installation, All City Plumbing has the solution for you. Our services are tailored to your particular situation so you receive a truly personal solution. Call today at (909) 552-7550 and save on your first service with our new customer special!