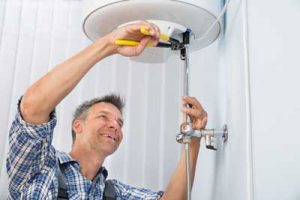 When was the last time you had your water heater inspected? If the answer is, "never" or "I don't remember," chances are your water heater could use some upkeep. To prevent your showers from running cold and to ensure hot water runs efficiently to all your major faucets and appliances, here are a few easy steps you can do to prolong the life of your water heater.
Drain the Tank and Wash Out Sediment
Draining your tank at least once a year helps to prevent sediment build-up. As water sits in the tank day in and day out, a layer of sediment begins to form along the bottom of the tank.
Over time the sediment begins to harden and forms a crust along the bottom of the tank which acts as a barrier between the heat source and the water.
Essentially, your water heater needs to use more energy to heat water to the set temperature – this increases your monthly bills and makes for some cold showers!
To drain the tank, grab a few large buckets, a hose, and some towels. It's important to drain the tank completely in order to wash out all sediment. Be careful, as the water draining will be hot. Once you drain all the hot water, you may need to briefly turn on the cold water supply to mix up any remaining sediment. Continue to drain the water tank until your water is sediment-free.
Adjust the Temperature 
Setting your water heater to the proper temperature is important to ensure you're not:
Scalding young children or elderly with hot water.
Wasting energy by continually running your heater at a higher temperature.
Creating a breeding ground for harmful bacteria when the temperature is set too low.
Most water heater experts recommend an ideal temperature of 120 °F. Of course, this is a rough guideline and you may want to set it a bit lower for children's bathrooms if possible.
Insulate Your Heater
To increase the efficiency of your water heater, an insulating blanket should do the trick. This is especially important if your heater is located in an unused area such as a garage, basement or attic. We suggest an insulation blanket of R-11 or higher. Check the size of your water heater to ensure you buy the proper size of insulation blanket.
If you need help with water heater maintenance, repair or installation, call our team to book a service call. Call All City Plumbing servicing the Rancho Cucamonga, CA today at (909) 552-7550.