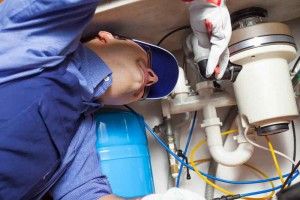 Having troubles with the drain (or drains) is not a happy experience. Backups and floods can occur when obstructions are not cleared out in your home. The foul smell of rotting refuse might also come up the drain and practically gag the occupants of a residence.
There are several tell-tale signs that you should have your drains cleaned out in your home.
Water Drains Very Slowly
If you notice that the water in your tub or sink drains very slowly you should strongly consider having it inspected and cleaned by a plumber.
Years of accumulation from grease, soap, sediment, hair, and other small objects can clog a drain. This can result in a very slow draining drain. It can be annoying, unpleasant and even pose a hazard.
A slow draining drain in the shower can cause water to accumulate in the tub when showering. This is not only unpleasant, but it also increases the chance of falling in the shower and having to literally stand in water when showering.
Don't take any chances. Have a professional plumber clean out your drain and say goodbye to those annoying slow draining drains in your home.
The Garbage Disposal Makes Extreme Noise
Upon turning the garbage disposal on, there should be no sounds like the blades are struggling to turn. Most definitely, the smell of burning gear should not emanate from the drain.
Something is causing trouble in the drain if these signs are evident. Clearing out the mysterious obstructions is the only thing capable of getting the garbage disposal to start working properly again and also eliminate troubles in the drain.
Foul Odors Are Coming From The Drain
A strong unpleasant odor can indicate a problem with the drain. Often times the odor is a result of decaying organic matter such as scraps of food, vegetable skins, oil, grease and leftover food stuck in a drain.
This problem most often occurs in kitchen sinks. Sometimes the cause of the odor is deep in a drain or in a hard to reach spot.
The drain will need to be unclogged, sterilized and deodorized. The best way to prevent odors in drains is to use a garbage disposal and to be careful with what you pour down. Periodic cleaning is also a good idea.
Water Does Not Drain at All
When water does not drain at all, this means that the drainage pipes are completely blocked and no water can pass through.
The usual culprit for this problem is when a foreign object such as a ball or plastic has completely blocked the drain. Removing it may difficult, so it is best to call a plumber to unclog a drain. They will have the equipment to determine the cause of the clog and remove or clean the objects out so that the drain is once again operational.
Debris in the Filled Up Sink
Water not going down the drain fast enough is a pretty obvious sign there is an obstruction. Some might opt to ignore the problem since, slow or not, water still ends up traveling down the drain.
If debris such as chopped up food comes up from the drain and starts floating in the water, this is a pretty bad sign.
The drain is seriously clogged and backing up. While there is enough of a hole for water to eventually escape, the problem is soon to surely get worse.
The Pipes Rumble
This odd reaction from the pipes could be more than a bit scary as the sound of rumbling pipes in a drain is shocking. The sound may seem as if the entire plumbing system is about to tear apart.
Things might not be anywhere near that extreme, but being concerned about something mysteriously amiss in the pipes is understandable. If something wasn't wrong, then the drain would never be making such noises.
Time to Call a Plumber
The situation with a trouble drain is not going to improve under any circumstances. Only if a plumber comes by and clears out the clog or replaces a damaged part can the drain return to normal. Contacting a top local plumber in your area right away is strongly recommended.
Are you witnessing signs of clogs in your home pipes? Call All City Plumbing at (909) 552-7550 today, and let the professionals take care of the problem.