Rather than spend thousands of dollars on expensive spa memberships, many people are instead choosing to spend that money on turning their bathroom into the spa of their dreams. These improvements elevate the value, ease of cleanliness, as well as looking great. Many of these changes can be done by the homeowner or contracted out to a professional. The top ways to beautify and beneficially alter your bathroom.
Homeowners who are looking to renovate and give their bathroom a makeover will have plenty of choices in front of them. If you think your bathroom is too much like that of your grandparents and want to bring it up-to-date, take a look at some of the things you can do to update it.
Toilets
A new toilet is a great way to improve the aesthetics of any bathroom. It is the main reason for having a bathroom anyways. There are new water-saving techniques that can allow for larger or smaller flushes, depending on the button pressed. These "green" toilets can help to save money on utilities.
Recliner in the Bathroom
While that may sound silly, the fact is that bathrooms are now looked upon as a place to relax and unwind, many people are enlarging their bathrooms and adding recliners, chaise loungers, and armoires alongside the sink and shower.
Fireplaces
One of the most beautiful trends that are starting to grace our bathrooms is that of fireplace installation. What a better way to relax than to lay in a warm bath, sip a glass of wine, and watch the dance of the flames inside of your fireplace.
These fireplaces act as a heater for the inside of your bathroom and wrap you in a blanket of warmth as you wash yourself.
Steam Showers
For those who have always wanted to turn their home's bathroom into a day spa, installing a steam shower is a great step in that direction. Considered a great way to detox the body and relax at the same time.
Sound Heads
Many people are starting to use sound-based showerheads while they're cleaning up. The audio output by these heads can be controlled by the user and provides an overall enjoyable experience. Many customers love playing classical, rock, and even jazz as they scrub away in the water!
New Sink and Fixtures
A new sink, whether stand-alone or in a counter can be combined with a new faucet (Delta is a top-selling brand) to help to make cleaning easier and give more space for toiletries.
Cabinets are a Great Addition
New handles on cabinets and a new lock for the bathroom should complement each other and bring a fresh look. These should be installed after painting.
Shower Curtains
The glass can be clear or fogged to impact the clarity. Shower curtains are another option, but they should match the rest of the bathroom. They don't last as long as the glass doors but are much cheaper as an alternative.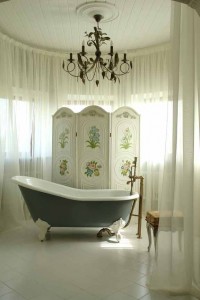 Soaking Tubs
The days of the luxurious shower are a thing of the past! The new trend that is sweeping homeowners by storm is large soaking tubs. These tubs are designed to wash away all the aches, pain, and tension that we've accumulated throughout the day. Many of these tubs are larger than normal and can seat multiple individuals while providing an elegant experience.
Sliding Doors
Glass sliding doors on bathtubs and showers are a great way to beautify a bathroom. It can be sliding or simply a pivoting door.
Flooring
New flooring, especially tile, can bring a whole new feeling to a bathroom. It's not difficult to install or find a contractor for and it improves the longevity of the bathroom. It's also much easier to clean than say wood or linoleum.
No More Cold Feet- Up until recently, it's been a fact of life that the bathroom floor was way too cold for anyone's liking. However, all that has changed with the addition of heated bathroom floors. If you really want luxury in your bathroom, consider having a high-tech heated floor installed. Making it possible to step out of the shower onto a warm and comfortable floor. The general design of most bathrooms used to incorporate small rugs and floor mats to dry off once you were done with your shower. This often caused inconvenience with things such as mold, foul smell, undesirable locations, and much more. However, the new and upcoming trend is installing heated floors within the bathroom design. And to make the floor even more luxurious, the heating level can often be controlled from within the shower, enabling a person to adjust the floor's temperature before they take their first step. The heated floors help evaporate shower water that happens to make its way onto the surface of the room. Similarly, the heated floor system will come in handy during those long and cold months during the winter!
Fresh Paint Job
Wallpaper and or fresh paint is a great way to beautify a bathroom. So long as everything works well with the color pattern it should turn out reasonably well. The bathroom used to be notorious for being bright and vibrant for all who enter. The new trend is incorporating darker designs within the bathroom area. Mixtures of grey, black, dark brown, and deep red is something that many homeowners are starting to prefer. The shades of gray send a hypnotic and mysterious message to those who have the chance to enter the space. Furthermore, the dark color combinations help create an atmosphere of cleanliness that you can't be reproduced with lighter colors. When using light colors within your bathroom, it's much more difficult to keep clean, and many smudges are amplified against the light background.
Your home deserves a beautiful bathroom. If you are a homeowner looking to renovate, call All City Plumbing at (909) 552-7550 for a remodel you can be proud of!