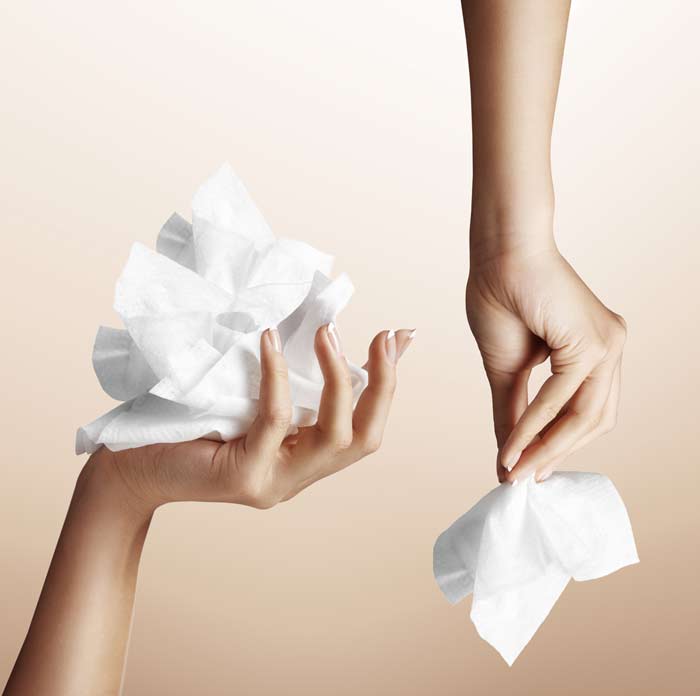 Disposable wipes are wreaking havoc on toilet pipes and sewage systems around the world. While they have been touted as the greatest things since sliced cheese, the fact is that these non-woven cloths are getting stuck in pipes and sewer machinery quicker than a pig trying to fit through a mouse hole. From New York to Sydney, disposable wipes are becoming a major headache for homeowners and sewage treatment systems alike.
The Difference Between Disposable Wipes and Toilet Paper
Disposable wipes have many uses in the home, but they are truly only disposable if they are disposed of within the solid waste stream. If one flushes wipes down a toilet, they are almost certainly guaranteeing the need for toilet repair at some point in the future. This is because disposable wipes do not break down the way that toilet paper does.
Toilet paper is designed to break down within 24 hours of becoming saturated. As a result, this means that toilet paper can easily be flushed through a home's sewage system and not usually cause problems that result in a drain cleaning being needed.
Disposable wipes, on the other hand, degrade into a solid mass of material that can act as a plug-in plumbing line. This, in turn, causes water to back up or build up pressure in plumbing pipes and can cause pipes to rupture if the wipes do not make it through the entire liquid waste stream.
Another way that disposable wipes can cause major havoc for homeowners is that disposable wipes often become entangled in tree roots and other things that may be growing through one's waste drainage pipes.
These entanglements can cause major flooding to occur in one's yard and change a beautiful backyard into a stinky and disease-infested swamp of unrefined fecal material, grease, and other waste materials.
When this happens, homeowners can expect to pay several thousand dollars for a plumbing company to come out and do the necessary toilet repair and drain cleaning that will be needed to fix the problem.
How To Create Your Own Wipes at Home
One way to avoid this problem is to create your own biodegradable wipes that will quickly break down in your home's sewage system. Homemade biodegradable wipes will keep you from spending thousands to have a plumber fix problems that can be avoided in the first place. 
All that is needed is a little know-how and a few common materials and you can easily make your own biodegradable wipes that will easily flush down your toilet and home's pipes and save you from the major headaches that disposable wipes can cause if they are flushed down your toilet.
In order to make your own wipes, you will need to go to the local grocery store and pick up a few items that are listed below. One of the first things you will need to get is an airtight container that you can store your homemade biodegradable wipes in. A cheap drink bottle makes a great container for homemade wipes.
Airtight Container- One of the first things you will need to get is an airtight container that you can store your homemade biodegradable wipes in. A cheap drink bottle makes a great container for homemade wipes.
Toilet Paper- The next thing you will need is high-quality toilet paper. Look through the toilet paper at your grocery store and find the most durable looking paper you can find. While disposable wipes are made of non-woven materials that are rather durable, toilet paper is made of biodegradable paper that will usually quickly degrade and not clog your home's pipes. This means that it should be safe to use and flush down your toilet without any problems.
Rubbing Alcohol- The final thing you will need is some alcohol. Generally speaking, 91 percent isopropyl alcohol is the best type of alcohol to use for homemade wipes because it evaporates quickly and acts as a little bit of a solvent to help accelerate the breakdown of toilet paper.
Once you have these things gathered, you can begin making your own homemade biodegradable disposable wipes.
The first thing that you need to do to make your own homemade biodegradable disposable wipes is to thoroughly clean out your container. This will help keep your wipes sterile and fresh for each use.
Next, you will need to remove the inner cardboard roll from the toilet paper you purchased at the grocery store.
Now with the inner cardboard roll removed, you will need to place the toilet paper into your storage container.
Once this has been done, you will need to pour the alcohol into the container until there is enough liquid in the container to completely cover the toilet paper. This will moisten your homemade biodegradable wipes.
With this step completed, you have effectively made your own biodegradable wipes that can safely be flushed down any toilet system.
Call Your Local Plumber
If you have used disposable but NOT flushable wipes in the past and flushed them down your toilet before discovering just how damaging they can be to your pipes, it is probably a good idea to contact a local plumber and have them check your pipes. This will help you to prevent any future problems from occurring that can result in huge toilet repair bills or massive expenses from having to have your home's pipes and drains cleaned.
To save your toilet from all clogging troubles, call All City Plumbing at (909) 552-7550.