In my home, we take every step necessary to be as safe as possible. We have cameras installed, an alarm system, homeowner's insurance, and our trusted water filter. These are standards you can find in most homes, but when it comes to what's below the surface, few homeowners give it much thought.
The piping in your home provides water to all of the faucets, and you rely on these pipes to last through the years without a burst or leak. But do you think about the possible toxins they might be released into the water you drink or bathe with?
Throughout this article we'll take a look at some of the top pipes you can use in your home, and how they benefit you and keep your family safe.
PEX Pipes
While PVC was the most common piping material up until several years ago, PEX piping is quickly working its way to becoming the most common piping material used in homes. PEX Tubing is a cross-linked polyethylene pipe that's created using what's called an extrusion method.
These pipes are ideal for most homeowners because they're cost-effective, and plumbers love working with them because they're flexible and easy to install. They're also heat resistant and can be used for either cold or hot water supply.
Stainless Steel Piping
Stainless steel is a durable and versatile material that got its name thanks to its increased corrosion resistance. Because the material is resistant to oxidization, doesn't affect other materials it touches, and versatile, it is often used in piping systems.
In the mid and early 1900s, steel piping was commonly used in homes. However, it was discovered that some level of toxins would leak into the drinking water, and the steel pipes began to be replaced by plastic pipes in homes.
But, because of their resistance to corrosion, today they're most commonly used in commercial applications in the food, mechanical, and construction industries.
Brass Pipes
Brass pipes are another common option that homeowners choose when piping or re-piping their homes. Brass pipes are incredibly durable and can be expected to retain their integrity for years to come; they can also maintain their strength when exposed to extreme temperatures.
These units are also highly versatile and pliable enough to bend and resist breaks and cracks. And just like steel pipes, they're also highly resistant to corrosion, so they're great options for commercial applications.
CPVC Piping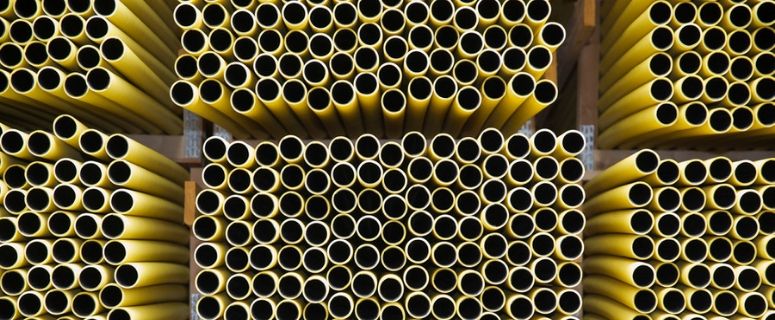 This high-pressure plastic piping material has been in heavy use since 1959, and it was introduced into sprinkler systems in 1985. These pipes are lightweight and highly portable, so they're easy to work with when retrofitting an entire home's piping system.
They're also safer to use than regular PVC pipes because they don't bleed toxins into the water to the same extent. One downfall to CPVC piping is that they can't handle very low temperatures and can split if frozen.
Cast Iron Pipes
Although these were commonly used for drainage pipes in the 19th and 20th centuries, very little cast iron piping is actually used today. However, owners of homes built prior to 1920, and even some lovers of the idea of antiquity, can still find it easy and beneficial to have cast-iron pipes.
Like other metals pipes, they are very durable, and if treated correctly, they can last many years. They can also be easy to install, and tend to be quieter than modern PVC pipes.
Make a Commitment to Healthier Pipes!
The pipes in your home can affect your health if they're aged or of subpar material. Plastic pipes can begin releasing toxins into the water after several years, so it's important to re-pipe and re-line your home's piping accordingly.
Want to help your friends learn more about which pipes they can use at home? Share this article with your friends to get them in on the conversation.