Sure, the rains of Spring can be pretty frustrating on occasion. After all, after you've endured the long cool of winter, you may want to be out enjoying the warmer weather of Spring but those showers rain on your parade, pun fully intended.
However, you likely enjoy the fact that these rains help bring nature back to life, peppering the landscape with verdant green plants and beautiful vibrant flowers. While this is certainly true, there is a dark side to the rain that you need to be aware of. Particularly if your pipes are used to drier weather, these April showers can actually cause you plumbing problems that you need to avoid to avert catastrophe.
Watch Out For Slab Leaks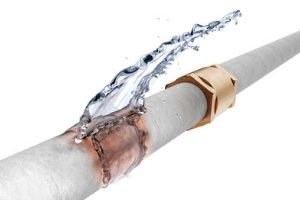 As odd as it might sound on the outset to think that more rainwater can affect your pipes, it actually can cause broken pipes in a pretty unusual way.
As the ground absorbs moisture, particularly if it has been dry for a while, the soil can shift. Normally, these shifts are pretty minor and don't cause a huge problem.
However, on occasion, the shifting can cause the area under your house's foundation to shift and settle. The changing position can put added pressure on your pipes, particularly if they are older. This can eventually cause something called a slab leak. These leaks are normally pretty small and hard to notice.
The first signs are often an increase in your monthly utility bills and a decrease in water pressure. However, this water can be causing damage to your foundation, eventually winding up causing massively expensive damage.
Don't Let Your Sewer Back Up 
Another potentially serious problem that added Spring rain can cause is backing up the pipes of your sewer system. Since most water makes its way into our sewer system, a deluge of rain can actually overwork your sewer system.
This can cause serious problems, making your toilets nonfunctional. This is obviously totally inconvenient but it can also be a health hazard. Making sure your pipes are in tip-top shape can help avoid this potentially serious peril.
Routine Plumbing Inspections Can Save the Day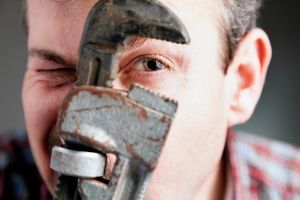 These problems may seem hard to detect and prevent. For the average person, that can be true. Thankfully, a plumbing expert can help detect these problems early or see potential issues before they even arise.
This can be done via a routine plumbing inspection. By identifying any weak points in your issues and addressing them, you can save yourself from a massive headache. Even if a small slab leak has begun, a plumber can detect it before you may even notice it, saving you the worst of a big repair bill.
After reading this, your mind may be focused on plumbing problems, instead of the picturesque views of Spring. However, you can rest easy by calling an expert from All City Plumbing by calling us at (909) 552-7550.
When you schedule a plumbing inspection, you'll feel a whole lot better can sit back and enjoy the view. If you've had any of these rain-related problems, share them below. You may help save someone from the trouble you went through by sharing the story.