Your San Bernardino Plumber
Fast Plumbing & Drain Services You Can Depend On
If you are struggling with a plumbing problem that your best DIY efforts can't fix, it's time to get a professional opinion. When you call All City Plumbing, an experienced San Bernardino plumber on our team will identify the source of the problem and eliminate it so you can refocus your energy on your priorities. We are committed to providing hassle-free service and strive to deliver a top-notch experience for all of our customers. Whether you need a minor plumbing repair or full sewer line replacement, we have you covered! Give us a call today to discuss your needs and be on your way to greater peace of mind in no time.
Count on us for the following quality plumbing repair & installation services:
Backflow repair and installation
Ball valve services
Burst pipe repair
Clogged toilet repair
Commercial plumbing
Drain cleaning
Faucets, fixtures and sinks
Flow tech
Garbage disposals
Gas line repair and installation
Hose bib repair installation
Hydrojetting
Overflow repair installation
Repiping
Sewer line repair and replacement (including trenchless)
Shower valve repair and replacement
Slab leak repair
Slab leak reroute services
Turn angle stops
Water filtration systems
Water leak detection
Water line repair and replacement
Water softeners
Need a plumber fast? Call the local experts at All City Plumbing! We are proud to serve San Bernardino, CA. Peace of mind is just a phone call away at (909) 552-7550.
Why Choose All City Plumbing?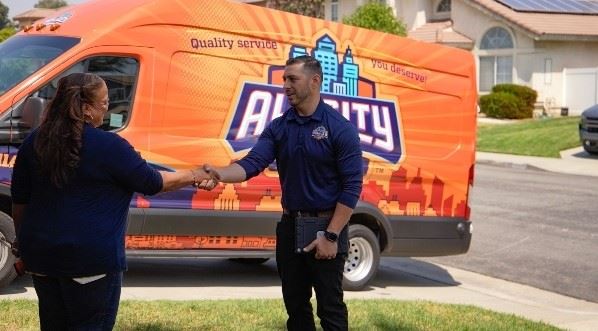 We hate seeing our customers uncomfortable. That is why we make every effort to provide the best solution possible while also creating a smooth and hassle-free experience for you!
Upfront Pricing. You will always receive an honest and upfront quote before any work begins. We do not carry out the job without your approval. Our prices are at a flat rate, not by the hour. You will know exactly what to expect from start to finish!
Quality Workmanship. We won't waste your time by performing shoddy work. Expect only top-notch workmanship from our team. All work is executed to meet local code and safety standards. We won't leave you with more problems than you started out with.
One-Trip Solutions. Get fast results with our team by your side. We carry the most common parts and materials necessary to complete most plumbing jobs in one trip. This saves you time and money and allows you to return to your normal routine much faster.
No Mess. Our San Bernardino plumbers wear shoe covers, lay mats, and keep the work area clean. We even clean up any mess we've made once the job is done. So put away your broom or mop. It will seem as if we were never there!
Get your plumbing problem under control with All City Plumbing. Call us today at (909) 552-7550 to request your free estimate. Enjoy a free pressure test as well with scheduled service!